Today BMX vert veteran Jay Eggleston is finally coming home from a stay of more than a month and a half at Spalding Rehabilitation Hospital in Aurora, Colo. Eggleston was knocked unconscious during BMX Vert finals at the Dew Tour's Pantech Open in Ocean City, Md. on July 23 and sustained what his doctors are calling a "shear" traumatic brain injury.
"I don't really remember anything about the accident," Eggleston told ESPN on Friday, in his first interview since the crash. "All I remember is waking up in the hospital like, 'What the hell is going on?' It's all been kind of weird, but it's starting to seem for real now that I have a better understanding of what happened, how serious it was, and how much more serious it could have been. I haven't actually seen the helmet that I crashed in so I have no idea how bad it really was, but I've been told I'd be in a lot more trouble right now if I hadn't had it."
Jay Eggleston Through The Years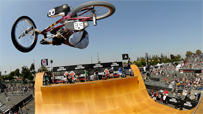 WIDTH="203" HEIGHT="114" BORDER="0" ALT="">
Jay Eggleston's timeless approach to vert riding has been a staple in the BMX vert class for years. Gallery

Eggleston was wearing a full-face helmet when he crashed, but still did serious damage to brain tissue near his thalamus, an area associated with sensory perception and movement. That he's able to give an interview at all should be cause for celebration in the BMX and action sports community: He was unconscious for several days after the crash and was barely able to talk at all when we last spoke with his wife Melissa Eggleston for an update just one month ago. Now he's already talking about his hopes of getting back on his bike and returning to competition.
"If I had my way I'd be in Salt Lake City this weekend for the Toyota Challenge or at least training for the Dew Tour championships next month in Las Vegas," Eggleston says. "But they told me I can't hit my head again for at least six months, so I'm not going to be taking too much risk of any kind before then. It's a real bummer, but I want to do everything I can to get better and get back to 100 percent. I've been having personal training with different therapists every day for like a month now, my brain's clearing up, and I'm remembering how to do more and more things. It's going to be a while before I can ride again, but that's the way it goes, I guess."
More than anything, Eggleston says, he's looking forward to going home to his wife and his new daughter – who is now nearly six months old -- and to sleeping in his own bed.
"I've had a lot of friends visit me and I know the rehab has been good for me, but I'm tired of being here in the hospital," Eggleston says. He'll continue with outpatient visits to physical, occupational, and speech therapists for at least another month, partly thanks to money raised by the Athlete Recovery Fund and proceeds from the sales of green "Keep Fighting 'Evil' Jay Eggleston" bracelets and other fundraising efforts lead by his friends in the Denver BMX scene; those funds will help pick up where his insurance coverage leaves off. "I want to thank all those guys and everybody who's been thinking of me and helping me out," Eggleston says.
Melissa Eggleston is a high school teacher in Littleton, Colo. but says she's recently become a student of all things related to traumatic brain injury and rehabilitation.
"With this type of injury the first three months are key," she says. "That's when you're going to see the biggest bounds in recovery, both physically and cognitively, and the rate he's been improving has just been so impressive. It turns out that some of the persistence and fighting spirit that have helped him in BMX also come in handy in rehabilitation, and there's reason to hope he'll make a full recovery."
All that optimism is clearly helping, but the reality is that Eggleston's injuries were quite serious, as is the risk of re-injury.
"He's still limited, somewhat, and it will be a while before he can get back on his bike, which is really weighing heavy on his mind since that's always been such a huge part of his life," says Melissa. "His reaction time is still slow, especially on the right side, and he won't be able to take the test to drive again for at least six months, which is the same timeframe he's looking at for getting back on his bike. But the good news is he's completely mobile, he's not a fall risk anymore while he's walking around, and he can hold the baby. Physically he's made huge strides -- he can walk, he can run -- and his therapists are working on keeping him challenged and doing things that require multitasking and problem-solving. There's still a lot of work ahead, but he's coming home and he's excited."
The Athlete Recovery Fund is continuing to collect donations through a PayPal site specifically marked for Eggleston's rehabilitation.
"It's a shame something like this has to happen for you to understand how blessed you are," Melissa says. "We are truly blessed with so many great people in our lives, and the amount of support we've gotten from everyone has been unbelievable. The Athlete Recovery Fund money will be really helpful because he'll most likely need more day rehab than our insurance will cover, and it's critical for him to get him all the therapy he needs to get back as close to 100 percent as possible."