Ramp
Dirt
Flatland
Video/Video Part
NORA Cup Winners
As soon as the sound of Judas Priest's 'Love Bites' showcased Mike Aitken throwing down a nac-nac to turndown somewhere in the Pennsylvania woods, I knew I was going to pick his "Anthem 2" section as NORA Cup Video Part of the Year.
Granted, it's a Mike Aitken section, which means everything you'd expect from Aitken, including stylish trail riding, insanely tweaked variations and unique street moves, but Mike Aitken's section in "Anthem 2" was much more than just another Mike Aitken video part.
It was a triumph.
In October of 2008, Aitken was seriously injured while filming for "Anthem 2" in Pa. Mike was knocked unconscious, and fractured his eye socket, sinus and both sides of his jaw. Mike remained in a coma for almost three weeks after the crash. But in true Aitken fashion, he recovered to the point of being able to walk out of the hospital on his own just a little over a month after the accident.
Mike Aitken Through The Years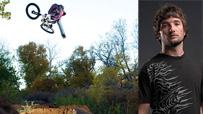 WIDTH="203" HEIGHT="114" BORDER="0" ALT="">
For five years before the premiere of "Anthem 2," Mike Aitken was hard at work on producing enough footage. Gallery

In the three years that have followed, Mike Aitken has continued down the road of recovery, in rehab, at the gym, and on the bike. He has been able to ride, but it's been a daily struggle. "Being back on the bike has been hard. It's been hard to be in one place with riding, and then to go back to ground zero in what felt like a day. But I'm starting to get a handle on it," Mike told ESPN last year.
Clearly, Aitken's determination and sheer toughness has been on his side since his injury, and it's allowed him to return to riding after a very serious brain injury. That road back to riding could be a story all its own, but there was much more on the back burner for Mike Aitken.
Since 2005, Aitken has been filming with "Anthem 2" producer Stew Johnson for the video, and he was steadily stacking up clips for five years before the video's debut in December of 2010. Following his injury, Aitken was unable to "finish" his part, but he had almost four minutes of amazing footage ready to go in advance, which he helped sort through with Johnson during the editing of the video.
That footage would become the opening section in "Anthem 2." And the section is classic Mike Aitken, beginning in the trails and branching out into insane skatepark lines and unique street clips. According to Aitken, "My memory took a digger. I can't point out a single line that I'm most psyched on, but riding in general for the video was a big honor."
"Anthem 2" was released in December of last year, and worldwide reception to the video was immediate. Not only did the video mark the return of Aitken -- it showcased the varied skills of Brian Yeagle, Clint Reynolds, Sean Burns, Mark Mulville and Geoff Slattery. All of the riders featured in the video were pushing a new brand of, I hate to use the expression, but "going big" on trails, street and parks. And it was a huge departure from the tech-heavy street riding of the past few years.
With a classic soundtrack and an all black and white theme (much like the first "Anthem" video), "Anthem 2" set the tone for a resurgence in the popularity of burly trail riding, huge street gaps and late fastplants over doubles. It was a much needed breath of fresh air on the BMX scene, and it earned my vote for NORA Cup Video of the Year, right alongside Mike Aitken's NORA Cup Video Part of the Year.
The 15th annual NORA Cup Awards begins tomorrow night in the Pearl Theater at the Palms Hotel in Las Vegas, Nev. Mike Aitken is nominated for Video Part of the Year (along with Sean Burns and Mark Mulville's parts in "Anthem 2"), and "Anthem 2" is up for Video of the Year.
My only regret in not going to Vegas this year is missing out on Stew Johnson's acceptance speech.