Last summer, during Big Air finals at X Games 17, Chad Kagy's 2011 season came to an abrupt end following a flair whip that resulted in a broken femur. According to Kagy last August, the pain he experienced on that fateful day was "the most ridiculous thing I've ever gone through." But, the true professional that Chad Kagy is, he weathered the recovery process, physical therapy and every hurdle along the way to successfully recover from breaking one of the strongest bones in the human body. Now nine months after his crash, Chad Kagy has returned to riding BMX, and is optimistic about the 2012 season. On a recent trip to Woodward Camp, we sat down with Kagy to discuss his return to riding, the physical and mental barriers that resulted from his crash, and his thoughts on BMX and expanding into new realms of riding. Welcome back Chad Kagy, we've missed you.
The return of Chad Kagy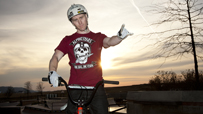 WIDTH="203" HEIGHT="114" BORDER="0" ALT="">
Kagy is back on a BMX bike, and hasn't missed a step. Check the photos. Gallery

ESPN.com: How's your leg feeling? What have been some of the mental effects from breaking your femur and how difficult has it been to come back from that?
Kagy: My leg is feeling really good and getting stronger every day. It was a tough injury to go through with a long recovery. It's odd that I was able to get back on my bike so quickly but still have odd feelings lingering around. I suppose the nerve damage from folding my leg in half at the hospital didn't help and having a large titanium rod in the middle of my femur makes for some feelings I need to get used to. The nerves will grow back slowly and my leg will feel completely normal soon. I'm glad my strength has come back to allow me to ride too. Timing and fatigue have been a problem during the recovery due to the muscle atrophy. A vert pump has to be strong and timed right to air the proper way and make it fun -- it took a little bit to get the timing back for 10-foot airs but it feels good now. I've been through a lot of serious injuries over the years so I'm pretty strong mentally about using my time to stay focused on riding and making things better once I can ride.
Jamie Bestwick seems to be standoffish toward fellow pros at Woodward, how does that make you feel? You both seemed to be talking while I was in town though, at least on the ramp. Do you both get along now?
The things Jamie says and does have put him into the standoffish position he's in. He has the ability to change the mood, vibe or amount of communication we have at any point but chooses not to. I'm disappointed with the way things have been since the interview came out in that English magazine. After that interview, I realized I was wrong with where I thought our friendship was. We speak on occasion and keep it simple since we live in the same town and ride the same ramp, but there's no need for me to go out of my way to change his mind if he believes or says I'm that type of person even after all these years of being friends and riding together.
You've been crossing over lately, riding and winning some mountain bike contests. Are you going to continue riding those comps this year?
I went on the Nitro Circus Live Tour with Cam McCaul (freestyle MTB rider.) While on tour, he offered me a bike, so I bugged him for a while about sending one to me. He sent me a bike and got me a spot in the Teva Winter Mountain Games about two weeks before the event. I rode Cloud 9 at Woodward six times on that bike and went to the comp. I just wanted to ride bikes and not worry about all the details. I liked being the new guy at the freestyle MTB comp. Everyone I met was really cool toward me. They just loved riding bikes and were psyched to see a BMXer playing around on bigger wheels. It was pretty much a MegaRamp jump on snow, so it worked out well for me. I'm fixing the bike I have since I wrecked it at the end of the comp and plan to ride a couple more events that fit into my schedule. It felt like an old school dirt comp and I liked riding without any expectations.
Where do you see yourself in the scope of the BMX scene and how do you feel about the current direction of BMX?
BMX is very video driven these days, so being off my bike and then riding but not well enough to make an edit of the type of things I want to do has me less involved in the public side of the BMX industry. I'm hoping to change that and put out a few good edits, get back on the Nitro Tour and ride some comps this year. BMX as a whole is in a very odd spot as it evolves into whatever is coming next. I find it odd that some companies have gotten rid of photo contingency and now pay contingency for riders to put out monthly edits. That pulls riders away from the publications that showcase BMX in a professional way and puts the image of BMX into the hands of young guys good at riding but rushing through an edit to make the monthly quota. I'd rather see a video part put together over a few months to have a really good quality section rather than a rushed edit that has two tricks and the rest is filler. I also feel that we as the BMX industry have let outside companies dictate what BMX does and who is worthwhile sponsoring. It's become very cutthroat and ruthless even though they tell you "we are a family." Riders support a brand for years, help that brand grow and then put in the time to direct the future of the brand. Then they get cut without even a thank you because that brand found a 15-year-old kid willing to make two web edits per month and ride for a little bit of free product. I hope the BMX industry can get back in control. I know of a few people working on putting out much more quality original content rather than quantity. Hopefully we can have a bit more balance to keep what we are doing alive, and to keep having fun for a lot longer.
What do you think about the current state of vert riding? How do you see it progressing and where do you see it going?
Vert is always going to be a minority in the BMX world. Vert ramps are hard to find and take a long time to learn how to ride the right way. Younger kids want instant gratification, so vert won't work for them. Even before I rode vert, I always went to the vert comps to watched the battles and craziness from [Mat] Hoffman, [Dave] Mirra and [Jay] Miron. I've always had respect for the vert guys even though I didn't ride it. Now I ride it and respect the vert guys even more since I know what it takes to ride that ramp well. Vert won't ever go away and it will continue to progress in the way it's ridden and tricks being done on it. It's easier to set up a single vert ramp and run shows or a comp with BMX, skate and even inline than it is to set up dirt or a whole park course, so vert will never disappear. With the surge of MegaRamp and Mini Mega, I think we'll end up with a lot more riders on the vert ramp to learn how to ride the bigger ramps the right way. This year in competitions, it won't be so dominated by one person with how well Stevie McCann, Vince Byron and Simon Tabron are riding, as well as having some new creative guys like Jorge Jovell and Mykel Larrin.
src="http://a.espncdn.com/i/story/design07/dropQuote.gif" />
I feel that we as the BMX industry have let outside companies dictate what BMX does and who is worthwhile sponsoring.
src="http://a.espncdn.com/i/story/design07/dropQuoteEnd.gif" />
--Chad Kagy
Has the slow down in competitions affected you?
It's going to be a slower than usual year for me as far as competitions, but I'm really busy so it works out just fine. I have Nitro Circus Live Australia in May and Euro Nitro Tour scheduled for the end of the year with a few comps in the middle. Dew Tour has been on a slow decline over the last few years and has yet to announce the schedule for this year, but rumors are saying two summer events. X Games on the other hand is expanding in 2013 around the world, so that's going to open up a lot of doors for the riders that compete in those events. It's a bit tough explaining to potential sponsors that I'm not riding a lot of comps because there aren't many this year, but I will have a lot of press through all the rest of what I'm doing outside of comps. Now is the time to start a relationship with new sponsors with the expansion of large events and tours next year -- some get it and some don't. The ones that do understand will benefit a lot in the next two years by getting involved with riders this year to be ready. There were a few MegaRamp comps last year and although they haven't released any confirmed dates yet, I wouldn't be surprised if some more Mega and Mini Mega comps start popping up throughout the rest of the year like the Dubai event postponed from April to later this year.
What's it been like riding for a company like Harley-Davidson, and will they be doing more with BMX this year?
My Harley-Davidson sponsorship was a cool relationship build on the Bikes Over Baghdad shows I've done over the last few years. I like working with companies outside the BMX industry and introducing them to a whole new world. Especially when it's a cool company that understands what we do and why we love to ride the way we do. How many other sponsors fly you out for a demo and allow you to pick any bike in the lineup to cruise around Milwaukee for the weekend with your friends? Nothing has been set in stone for H-D to do anything else in BMX this year, but we'll find out soon. I really liked how they designed my bike to be painted for last year and I hope it happens again. If not, then I'll design something else since I don't have a bike sponsor. I can paint whatever I want.
Asia X Games 2012 is just around the corner. Are you ready for it?
I'm ready for Asian X and feel strong enough to compete in vert and Mega out there. Over the next few weeks I have some trick ideas I've been getting closer to pulling so I'm coming back to BMX comps confident and healthy. Asian X is my first comp back so it'll be a good way to get back into things. Then the next day I fly to Australia to start the Nitro Circus Live Tour. The Nitro Tour is a good way for me to get ready for Mega Ramp this year. I really want to do well on Mega this year after a rough landing last year at X Games.
What are some of your goals for the rest of this year?
I'm really busy riding all around the world so my main goal is to stay healthy and injury free. I'd like to come back to X Games to get my revenge on that beast of a ramp that took me out last year. I'm trying to get out to race my street bike a few times this summer in the down time from BMX comps as well as ride a couple freestyle MTB comps too. I'd also like to put together a couple really good edits this year and possibly talk Flip into doing another Albe's road trip since they're fun and the riding always get nuts.