The 2012 vert season kicked off last month at X Games Asia in Shanghai, China, minus one very noticeable vert rider, Jamie Bestwick. He was at home, in State College, Pa., seemingly not too concerned with flying halfway around the world to enter a vert contest. It's a luxury that Bestwick, age 40, can afford. The only rider to five-peat in BMX Vert in X Games history, not to mention the owner of seven year-end Dew Cups for BMX Vert, Jamie Bestwick has remained virtually untouchable on the vert ramp for nearly the past decade. And he shows no signs of slowing down. This year, Bestwick will travel to X Games Los Angeles focused on achieving a record six-peat wins in BMX Vert, on top of serving as on-air talent for NBC during the London Olympics, riding the 2012 Dew Tour series, and racing motorcycles and cars in various events throughout the world. But before his year gets too hectic, we decided to pay him a visit in his adopted hometown of State College, Pa. While there, we witnessed the awesome spectacle that is a Jamie Bestwick vert session, and also sat down to discuss his life as the reigning champion of X Games BMX Vert. Welcome to the Jamie Bestwick interview.

Bestwick at Woodward Camp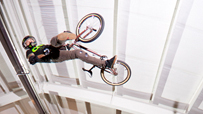 WIDTH="203" HEIGHT="114" BORDER="0" ALT="">
Go inside a solo vert session with Jamie Bestwick at Woodward. Check the photos. Gallery

ESPN.com: What do you think about the current state of vert riding? How do you see it progressing and where do you see it going?
Bestwick: Vert riding in my eyes will always be the one that influences so many parts of what makes up BMX riding. You only have to look at a lot of BMX edits and contest runs to see how vert riders and their tricks have given people direction and have had a direct impact on how many park, dirt and street riders choose to link their tricks together. I also like to think that BMX is a huge melting pot and we all have a direct influence on each other.
Who inspired you the most to ride vert when you were growing up?
Growing up, I saw amazing photos of [Eddie] Fiola, [Mike] Dominguez, [Rich] Sigur and [Hugo] Gonzales in concrete bowls in America and it looked so cool and fun. The colors, the bikes the tricks and style made you want to just get a bike and ride. I then saw a quarterpipe demo by Mike Pardon and Andy Preston that literally blew me away. I saw Dave Slades ride after that and he was the perfect mix of USA flamboyancy and balls-out stupidity on a pink bike -- that sealed the deal for me. I was hooked on ramp riding. Over the years, it's been a real mix. From the great years of Carlo Griggs, Mike Canning, Jason Ellis, Lee Reynolds, Stephen Laidlaw and James and Mick Hudson, to seeing Dennis McCoy, Joe Johnson, Greg Guilotte, Josh White and Ron Wilkerson. Then, the years of Mat Hoffman in his prime were amazing. I saw him demo in the U.K. and it was incredible. The winner of the contest he was at got to ride with him in a demo after the contest. I rode so hard to win that event, tried and nearly pulled my first 900. I won the comp, rode the demo and copped a lot of crap from people, but I sat on the opposite side of the deck as Mat pulled his first flair. Brilliant. Dave Mirra was a huge inspiration as well. His riding was effortless and his ability to save tricks was unbelievable. I think a lot of people fail to see the impact he has had on BMX. While Mat's was plain to see, Dave's impact was like his riding -- smooth, big and impeccably well done! And to this day he is still defining what can be achieved in action sports.
Dew Tour just cut back on the amount of stops they're doing this year. What are your thoughts about that?
They are growing with the changes our sport is demanding. The five-stop tour was great and really helped promote action sports to the mainstream in a way that no one had done before. But times have changed again and riders and fans are looking for something a little less unrestricted. They want to see the very best in the sport put it all on the line in a stand alone event. Strategy is sometimes a factor in five events, and staying healthy is one of them. A stand alone event will encourage riders to go for broke, and quite possibly we'll see their dream riding laid down, which can often be the downside of a series.
X Games, on the other hand, is expanding and doing global events for 2013. Are you excited about that?
I think it's great. X Games have already seen that what they have done in China and Brazil have been successful and have worked. This is the next step in their own progression. I'm sure many questions will be raised, but regardless it gives riders yet another opportunity to fulfill their dreams of riding in the X Games, especially those from the chosen host countries. This in turn may be a catalyst to start a new generation of BMX riders and may be a way for the Olympic committee to see our sport in action.
It seems like the competitive edge of riding vert has caused a rift in your friendships with other pro vert riders such as McCann and Kagy. What is your take on that?
Something we all have in common is that we ride a competitive sport. My competitiveness has always been the same -- and it always will be. I enjoy riding my bike and I get on my bike to live out my dream of being the best I can be and channel my efforts into something so creative as BMX bike riding is to me. I am pretty much my own biggest competitor. Friendships that I have now and have had along the way, whether that is with Simon [Tabron], Kevin [Robinson], Mat [Hoffman], Dave Mirra, Jay Miron, Stevie [McCann], Chad [Kagy], have always been on the same level, and still are to this day. We all have the same goal, and that is to be the best at what we do. We all speak to each other, have a laugh on the deck and have grabbed the odd beer or bite to eat together in the past, whether at a contest or not, and that's about it. But at the end of the day, we get off the ramp and we all go our separate ways, much like any sport really. I have different interests off the ramp, but the bike, contests and Woodward brings us all together at similar times. I think people perceive things to be other than they really are. People like to create stories, whether true or not and I feel like I'm going over the same ground again and again. But at the end of the day none of it matters. Maybe there's a misconception that because we share the deck of the ramp and we are acquaintances, then we share much more of our lives -- but for me this isn't the case. I feel respect for everyone and if that wasn't the case I would hope I am accessible enough for anyone to ask me what's up? In all honesty, I get on my bike for me, I get done what I want to get done -- I put my hand up, cheers and I'm off. I don't like to live anyone else's life, and it's not about not caring, it's just I live my life for my family and me. That's it.
src="http://a.espncdn.com/i/story/design07/dropQuote.gif" />
I get on my bike for me, I get done what I want to get done -- I put my hand up, cheers and I'm off.
src="http://a.espncdn.com/i/story/design07/dropQuoteEnd.gif" />
--Jamie Bestwick
What do you think about Big Air? Would you ever compete in Big Air at X Games?
No. I have a lot of respect for the riders that do, but for me personally, it sparks no interest. I think in the world of X Games, it is a perfect fit, as spectators want to be wowed and shocked by people riding a ramp of such magnitude. With such a huge ramp and even its name, "MegaRamp," it evokes a perception that big things are going to happen. You can even feel it from the crowd as you enter the event. There's all this build up and you're waiting for it to go down, and on past experience it has, and on other times, it's been a little anti-climactic. Ask any paying spectator their thoughts and there's a realization that this is a spectator sport -- they're there to watch it go down -- the great riding and great falls. In my personal view, the guys who ride this ramp are incredible, and their achievements mind blowing. Unfortunately, their great moments of riding can sometimes be eclipsed by a horrific crash, one that delights the viewing public, media and YouTube followers. Jake Brown case in point.
Your wife owns a yoga studio called, Pure Yoga Pilates, in State College. Do you do yoga too?
Yes I do. It's a really great way to exercise, and being a bike rider it's good to stay flexible. Yoga and Pilates does that for me. Plus my Mrs. is one of the best teachers in the world -- she really helps me out, as she knows my capabilities in both exercise, bike riding and in life itself.
You have a really dry, sarcastic humor that I think a lot of people misinterpret. Would you say that's true and does that get frustrating?
I think this may be the story of my life. I laugh at myself because I think it's funny, yet at times I find I'm the only one laughing. Growing up in England with the humor they showed on TV and how my friends were around me gave me a sense of humor a little off the beaten path. To be honest, I don't think about it too much, it is what it is. It's just me. I mean no harm, I am merely entertaining myself at the cost of occasional misinterpretation, which seems to frustrate others more often than not.
You have quite a few hobbies. What's your favorite thing to do outside from riding your bike?
I love eating food. I just met one of the best pastry chefs in America, John Iuzzini. But I'm not allowed to visit him till after contest season! In fact, Anthony Bourdain has my dream job -- to travel around a country or the world based on what is to be eaten that day. That would be a fantastic experience. I grew up wanting to be a chef. My mum's an amazing cook. As I have been able to travel with my bike, I have experienced different culinary cultures. It's not all scorpions and snake blood shots though, and I definitely want to pursue food more. Failing that, a barista will do.
Who are some of your favorite riders to watch right now?
Right now I love all the cool things Markit BMX are doing. The Christian Rigal edit especially, it was different and I loved the adaptation of man made equipment being put in the street environment. Daniel Sandoval is doing great things alongside Harry Main, Mark Webb and Michael Beran. More Rob Ridge too please! Keith Schmidt is an underrated rider and I loved Florent Soulas USA 2012 edit, as it was so different to anything I have seen before. An interpretation of how flatland skills can be used on ramps and street. I'm a big Dennis Enarson and Kyle Baldock fan, and who doesn't love a Spaniard slithering around a pool!
What are some of your goals for the rest of the year?
I have a really busy year with the Bestwick Foundation projects, as we help raise money for local families dealing with cancer. I am lucky enough to have been chosen to be a part of NBC's broadcast team for the 2012 Olympic games in London, England. I am really looking forward to going to the Grand finals of the SCCA racecar series. I just gained enough points to secure my spot with Team Toyota Yaris, so Jason Isley and myself will be trying to bring home a podium this summer. I'll also be taking a vacation to a faraway land, preferably non-English speaking. Other than that, all the summer contests I will be at. I have been riding well this year. I am nearly 100% fully fit whatever that means, and always excited about riding new places each year. See you all soon.