Dew Tour City Championships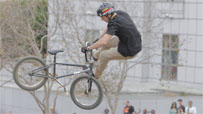 WIDTH="203" HEIGHT="114" BORDER="0" ALT="">
BMX Street and Dirt land in San Francisco for the Dew Tour City Championships. Gallery

Garrett Reynolds picked up his second 2012 Dew Cup championship title on Sunday, beating out Dennis Enarson and Scotty Cranmer in the new BMX Streetstyle competition after also winning the BMX Street finals on Saturday at the Dew Tour City Championships in San Francisco.
Enarson, the only rider to qualify for finals in all three of this weekend's BMX events, lead Sunday's Streetstyle final after Run 1 with a score of 91.75 for huge tricks like an icepick grind down the biggest handrail on the course, a box jump to wallride on one of the shipping containers, and a backflip over the box jump at the bottom of the hill. He held his lead right up to the last seconds of Run 3, when Reynolds unseated him.
"I think the most challenging part of the course is you've got so much coming to you, and for a brake-less rider you've always got to keep slowing down," Reynolds said, breathless in a podium interview after the best-of-three runs competition that he clinched in his final run with a score of 93.00.
The Streetstyle course sent riders careening down a literal street course on a steep stretch of Harrison Street featuring obstacles made out of steel I-beams, Jersey barriers, shipping containers, loading docks, construction scaffolding, and other-street-inspired elements.
Reynolds tore up every inch of the course, barely bothering to scrub his speed. He went barspin 540 to fakie on an A-frame jump by a pile of steel beams right out the gate, then on to a couple of hops dancing on and around the Jersey barriers, an icepick grind to 360 out on the down rail and a 180 over a loading dock rail -- all on the top half of the hill alone. He then launched into the massive final section with a bar spin to double peg grind down a handrail, a look-back opposite 360 on a step-up feature, a tailwhip transfer, a no-foot can-can step-down jump to a flatbed truck, and a 360 off the truck.
Enarson tried to answer him, taking the final run of the competition and improving his score to 92.00 after digging into his bag of tricks to add a bar spin to toboggan and a lofty flip whip on the box jump into the mix, but in the end the day belonged to Reynolds. It's been an enormous year for Reynolds, who won his fifth consecutive X Games gold this summer in Los Angeles and also picked up his fifth consecutive Ride BMX Magazine NORA Cup Street Rider of the Year award in September.
-- CB
2012 Dew Tour Toyota City Championship, BMX Streetstyle: Oct. 21, 2012
BMX Dirt
Last year, late in the Dew Tour season, Haro's Ryan Nyquist went down over a hip and suffered a complicated hand injury which sidelined him for the remainder of the year. Nyquist sat out the Salt Lake City stop, and instead of riding, live tweeted the event. This year, things are different.
33-year-old Nyquist's hand is healed, and he's back on the bike. Nyquist qualified into the dirt finals at the Dew Tour Toyota Championships, patiently waited until his last run of the night, and earned the highest score of the night. His run included a backflip double barspin, a 450 barspin on the long and low middle set, capped off by a 720 barspin over the final set.
He edged past T.J. Ellis, who was sitting in first prior to Nyquist's run, and stayed there even after Ellis' final run, which included a backflip superman, 360 and a frontflip tailwhip.
The oldest competitor in the BMX dirt finals is also now the owner of the 2012 Dew Cup in BMX Dirt. "Fifteen years of dirt comps and still winning," said Nyquist's longtime bike sponsor Haro. Nyquist took home $40,000 for his efforts.
Meanwhile, T.J. Ellis settled for second place, followed by Colton Satterfield in third place. Rounding out the top five was Nyquist's Haro teammate Dennis Enarson in fourth place, followed by Australia's Kyle Baldock in fifth.
-- BT
2012 Dew Tour Toyota City Championship, BMX Dirt: Oct. 20, 2012
BMX Street
Garrett Reynolds has done it again. Following the inclusion of BMX Street, a new discipline to the Dew Tour City Championships, the five-time X Games gold medalist and NORA Cup winner took another first place to end the competition season on a high note.
Reynolds took the lead early into the contest with moves that included double truckdriver and nollie truckdrivers down the stairs, and a 180 barspin to backwards crooked grind down the rail.
Close behind Reynolds in second place was Nike teammate Chad Kerley, followed by Federal's German import, Bruno Hoffmann in third place. Rounding out the top five was Haro's Dennis Enarson in fourth place and Kink's Sean Sexton in fifth.
Reynolds competed in BMX Park at the Dew Tour Beach stop in Ocean City, Md. in August, and suffered a shoulder injury. He recovered in time to take first place with ease. "Contests light a fire under me," said Reynolds earlier this week. "It all depends on the day he added.
The street course consisted of historic and iconic S.F. skate spots, including the hub hideout ledge, the China banks, the 3rd and Army manual pads and the Pier 7 stairs with manual pad.
-- BT
2012 Dew Tour Toyota City Championship, BMX Street: Oct. 20, 2012
Qualifying
The Dew Tour Toyota City Championships kicked off in San Francisco, Calif. on Thursday, with preliminary events in BMX dirt and BMX street -- a new BMX discipline introduced into the Dew Tour for the eighth season of competition.
In dirt prelims, Total BMX rider Kyle Baldock finished in the first place spot, followed by Haro's Pat Casey in second and Baldock's Total BMX teammate Daniel Sandoval in third place. Rounding out the top five in dirt prelims was Colton Satterfield in fourth place and Mongoose's Ben Wallace in fifth place. BMX dirt semi-finals continue later on today, with finals returning on Saturday night.
BMX dirt competitor Brett Banasiewicz remains in an Atlanta, Ga. traumatic brain injury rehabilitation facility following a crash in August one week after winning the Dew Cup in BMX Park, but his fellow dirt competitors continued to reach out to Banasiewicz during Thursday's dirt prelims. Amid a Dew Tour Twitter contest in which the rider who creates the most buzz wins an additional $5000, Scotty Cranmer decided to create buzz for Banasiewicz with the hope that the prize money could go towards Brett's mounting medical bills.
The BMX community rallied behind Cranmer in support, and the Twitter buzz continues to spread.
"Getting up on top of the roll-in, I found myself expecting to see Brett multiple times. We all miss you Brett," said Cranmer. "Let's get Brett the $5000 #Dewtour Twitter bonus," he added.
-- BT
New to Dew Tour in San Francisco was BMX street, which started with semi-finals on Thursday night. Premium's Chad Kerley grabbed the top qualifying spot, followed by Fiend's Garrett Reynolds in second place and Federal's Bruno Hoffmann in third place. Rounding out the top five was Dennis Enarson in fourth place and Dakota Roche in fifth place.
Eight riders qualified into Saturday's finals. The additional spots went to Ty Morrow, Sean Sexton and Stevie Churchill.