Throughout the years there have been a few staples in BMX. One of these oft-named staples, speed, is displayed most prominently in the contemporary BMX world by Sunday's Alex Magallan. Alex, 23, a Nashville, Tenn. native, has consistently produced solid video parts for the past five years. First, with the local Tennessee video "Nobody Special," and most recently with his standout part in Sunday's "Up, Up, and Away." Alex seemingly is on a mission to annihilate spots that can be considered "spots" only in the loosest of terms. Simply put -- his riding is refreshing.
Talking with Alex, it's not hard to see where the speed came from; Alex grew up racing at Dixieland BMX track with his brother. He fondly remembers getting their assigned numbers. "My bro got the number 360 and I received 361. Let's just say he was way cooler than me," says Magallan.
Alex Magallan Pro Spotlight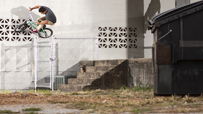 WIDTH="203" HEIGHT="114" BORDER="0" ALT="">
Sunday's Alex Magallan combines speed and tech like no other rider today. Check the photos. Gallery

And like most, Alex caught the BMX bug first by a local shredder. "Gary Campbell [was] this guy who used to rage the front straight. Large proper tables, sporting a Mongoose Solution. He was also real helpful on pointing my father in the right direction on where we should purchase our bikes." The late '90s and early 00's brought with it the widely accepted use of clipless pedals in BMX racing; a trend embraced by many, but hated by some. Magallan was not a fan, and quit racing soon after. "I'll never forgot Neal Wood's NORA Cup sticker that read 'Clips are for Kooks.'"
At this point, inspired by the now legendary riding of Northeast trail riders, Alex focused on trails. "This was the only option after watching "Scum," "1201" and Groundchuck [Issac McCrea] seal tabletops," he says. "My brother and I were heavily influenced by the Northeast trail scene."
"[Chris] Stauffer always seemed to do right," he continues While primarily known for his creative street and ramp riding, Magallan still can be found cruising trails even though he says the scene is dwindling due to the influx of concrete skateparks. Alex jokes that this has created "laziness and park rats."
Born from former DuFFS team manager Brian Osborne's recommendation to Jim Cielencki, Alex began his sponsorship with Sunday! in 2007. His humbleness comes out when speaking about the team. "[The] team's impressive. All the guys seem to have their own creative mind. It's kinda crazy to be on the same team as Gary Young, dude is the man. Everyone just has something to offer."
And he's right, Sunday may have one of the most well-rounded teams in BMX. Alex's combination of speed and tech compliment it quite nicely. When pressed about this, Alex dodges the question. "I just love to be comfortable on my bike. Every now and then I'll get a wild hair and jump off a roof. A quote I stand by on and off my bike: It's the little things that matter the most." The little things Alex mentions are what makes his riding so interesting. Banks and curbs that may as well be non-existent, toothpick bonks that are barely noticeable without a second look, and 180's that make you wonder why anyone ever even started spinning past that point are all just some of these interesting "little things." Couple this with huge gaps and downright scary wallrides and you have the making of something special.
src="http://assets.espn.go.com/i/story/design07/dropQuote.gif" />
A quote I stand by on and off my bike: It's the little things that matter the most.
src="http://assets.espn.go.com/i/story/design07/dropQuoteEnd.gif" />
--Alex Magallan
Somewhere, possibly in the frenzy that is BMX media in 2011, pros forgot about laying low. Luckily this does not apply to Alex. Any footage of him is pure gold and leaves you asking for more. Photos of Alex follow suit. An interesting component to his video appearances is the timelessness -- footage from 2006 could have been filmed last week. That's not to say that his parts do not show progression. It's a testament to the effortless execution, as if he is just looking for a new set-up in a new city to calmly do that over double-peg to over to manual to wallride to 180.
Later this summer, look forward to a new video part from Alex in the form of Props' "Owned" Summer 2011 DVD. Alex's filmer, Stew Johnson confirms the obvious when asked about his riding, "He's been killing it lately." And if the photos that have surfaced recently are any indicator, then we are in for a treat. Until then, Alex can keep us all guessing while he keeps it simple in what seems to be the new hotbed for BMX talent: Nashville, Tenn.