Monster Energy AMA Supercross: St. Louis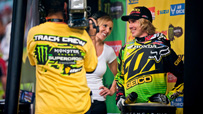 WIDTH="203" HEIGHT="114" BORDER="0" ALT="">The St. Louis stop action, through the lens of Steve Cox. Gallery

When things are good, they're great, and when things are bad, they're terrible. That pretty much sums up James Stewart's 2011 season. Despite a reputation in motocross racing as the "fastest man on the planet," it's been more than two months since Stewart earned a win. That was at Anaheim 2, and on Saturday in St. Louis, Stewart finally returned to the top of the podium in an emotional victory that left him in tears. How much of that emotion was due to race frustrations, as opposed to his recent legal troubles, Stewart did not address.
The points battle is getting tighter as the races go on, with the top five now separated by only 20 points, and the top three separated by only eight points. And with only three rounds remaining, it appears increasingly likely that the Supercross championship will come down to the final event in Las Vegas, on May 7.
Full results and championship points standings after the jump.
Monster Energy AMA Supercross results: St. Louis
Monster Energy AMA Supercross Lites East results: St. Louis
Monster Energy AMA Supercross points standings
Monster Energy AMA Supercross Lites East points standings