The dust has settled on Egypt's Giza Plateau, home to the Sphinx and the world's most famous pyramids, where tonight 2007 X Games freestyle champion Adam Jones won the second round of the 2010 Red Bull X-Fighters, besting current tour leader Andre Villa in the final. You could say it was a monumental performance.
The night began in appropriate Egyptian fashion, with 12 of the world's best riders trading their two-strokes and four-strokes for 1,000-pound camels. They paraded before a large crowd of local fans who, it's safe to assume, had never seen what was about to be unleashed before them.
With a somewhat controversial win last month at the first stop in Mexico City, Villa carried the momentum into Egypt. But due to local restrictions, the course was required to be built without dirt, resulting in a smaller, ramps-only affair that made the event anyone's game.
Round one pared the field down to eight, with Jones, Villa, Nate Adams, Robbie Maddison, Levi Sherwood, Eigo Sato, Jim McNeil, and Libor Podmol all making the cut. Round two was a head-to-head affair in which each rider had two minutes to perform eight jumps. The first bracket paired Sato against Maddison, and while the Japanese rider's new Aeroplane impressed, it was his one-handed take off to one-handed tweak air that really had the judges baffled. But Maddison proved Sato's not the only one with an Aeroplane, throwing the trick along with a whipped out heel clicker and a solid ruler flip. Maddison advanced to the semifinal.
2010 Red Bull X-Fighters World Tour Egypt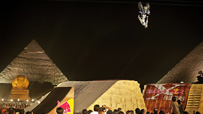 WIDTH="203" HEIGHT="114" BORDER="0" ALT="">
Adam Jones takes a long overdue win in Egypt. Gallery »
The second match-up saw Jones -- reportedly frustrated about a qualifying round that he narrowly escaped -- facing young gun Sherwood. The 19-year-old New Zealander has a solid bag of tricks, crazy style, and extension to boot, but if Jones was upset, he chose to take it out on the jumps. It's been a while since he had a major event win, but it was clear from the first jump that Jones came to compete. His infamous "dead body" (now known as the "rigamortis") stripper flip and turntable into one-handed, no-footed can were enough to stop Sherwood's charge and it was safe to officially wonder if Jones might have another big win up his sleeve.
The other round two match-ups featured 2009 X-Fighters overall champion Adams against Arizona's McNeil and Villa versus Polish hard-charger and tour newcomer Podmol. McNeil never had a chance once Adam unleashed not one but two 360s -- no small feat on the ramp-to-ramp setup. As for Villa, any talk of momentum dimmed, as he struggled to hold off Podmol.
In the semifinal things got switched up a bit to accommodate the smaller course. The new format, dubbed "The Answer Session," so competitors trading jumps. With three minutes on the clock, the lower-ranked rider went first and the higher-ranked rider "answered." This slight change may have made things more exciting for the crowd, but it led to some confusion among the riders.
Jones faced Adams first and he beat the most decorated competitor in the game in the easiest way possible: he threw one more trick than Adams, who fell victim to a time limit violation. "We were both unaware there was a three minute time limit and I only got seven tricks in as opposed to his eight" stressed Adams. "I don't know if I like this new format."
The second semifinal featured Maddison and Villa. Proof that Maddison's competition pedigree continues to improve, he highlighted his run with a clean lazy boy flip and a ruler indy flip, but it wasn't enough to stop Villa. The Norwegian shut the Australian down with his signature holy grab super can, a turndown whip, and a no-handed flip to no-handed lander, on which he didn't check the bars once. The final was set: Jones versus Villa.
The final continued with the Answer Session format and an additional minute of riding. Over the course of eight minutes, Jones and Villa went blow for blow, but the exchange that earned Jones the win was his clean lazy boy flip, after which Villa botched his Superman seat grab flip. His second-place finish increased Villa's lead over the rest of the field in the overall standings, but for this night it was Jones who stood taller than the pyramids that surrounded him.
"This is the best feeling ever," screamed an obviously elated Jones. "I haven't won anything in nearly two years. It feels awesome and it means so much ... It means I'm myself again! I have a lot more confidence going into Moscow now." Jones then baffled the Austrian reporter doing his on-camera interview by saying, "I think the aliens helped me," and gesturing toward the famous structures in the background.
Aliens may or may not have built the pyramids of Giza, but that's for someone else to figure out. The Red Bull X-Fighters are heading to Moscow, where they'll contest stop three on June 26th. Check back with ESPN FMX for all our preview coverage in the week leading up to the event.
2010 Red Bull X-Fighters: Giza, Egypt