After running pre-qualifiers earlier in the day, the unpredictable UK weather rolled into London, dumping a consistent flowage of rain over the massive course. With nearly 10,000 more fans than last year, 28,000 dedicated Brits made their way to the Battersea Power Station for the night's finals, but after a unanimous decision by Red Bull and the riders, the fifth round of Red Bull X-Fighters was called to an end before it had a chance to begin, with the ultimate intention of keeping the riders safe. Course builder Jesse Olson did all he could to make conditions better -- trying to find dry soil dirt anywhere he could, spreading it out through the course -- but after giving each rider two minutes to assess the course on their bike, rider representative Mike Mason made the call based on rider input.
2010 Red Bull X-Fighters World Tour London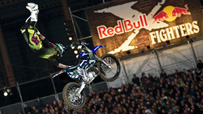 WIDTH="203" HEIGHT="114" BORDER="0" ALT="">
Levi Sherwood takes the win in London after rain cancels the finals. Gallery »
However, this is nothing new to the Red Bull X-Fighters World Tour. The first round in Mexico City was called after only the first round of qualifiers due to a torrential downpour and windstorm. Taking the same approach as in Mexico, judges decided to base the final result on the pre-qualifiers from earlier in the day. This allowed 18-year-old New Zealander Levi Sherwood to take his second X-Fighters win of the season, with his first coming in Moscow. After realizing he took the win, he jumped on his bike and rode around the course wearing the New Zealand flag as a cape.
Winning qualifying by a whopping 22-points over of Nate Adams' score of 405-points, Sherwood was clearly the best rider in London, which justified his pre-mature event win. Extending his tricks more and more at each and every round, Sherwood's progression has made him become the rider to beat at the final X-Fighters competition in Rome on October 1. Pulling one of the biggest Hart Attack look back backflips in the history of the sport, as well as his signature overly-extended ruler flip, the young New Zealander is absolutely on fire. Sherwood now ranks second in the standings, only 20-points behind series leader Andre Villa. Nate Adams and Spain's Dany Torres respectably rounded out the top three.
2010 Red Bull X-Fighters: London, England