The South Africans might have used the vuvuzela to serenade their soccer players, but in Spain they have chainless chainsaw to sing the praises of the world's best FMX riders. That singular noise echoed throughout the Plaza de Torros in Madrid Friday night, as the Red Bull X-Fighters tour made it's fourth stop of the year. Round by round, the decibel level rose, and the intensity of the riding rose right along with it.
Australia's Robbie Maddison took down Switzerland's Mat Rebeaud in the final by adding a Volt -- a body varial off the side of the bike -- to a near-flawless run that included ruler flips, cordova flips, and beyond inverted turndowns. The Volt was debuted by Kyle Loza, who used it to win Best Trick at X Games 13, but Maddison is the first rider to use the trick in a full freestyle run.
"I've been working on the trick since Moscow because I knew I had to bring something bigger if I wanted to win," Maddison said after the final, referring to the tour's last stop in Russia. "I've been mentally visualizing it since arriving in Madrid, and I read a book about mental preparation on my way home from Moscow because I had to bring my mental awareness level up." The visualization clearly worked; Maddison landed all three Volts he attempted.
2010 Red Bull X-Fighters World Tour Madrid
onClick="window.open('http://espn.go.com/action/fmx/gallery?id=5404981','Popup','width=990,height=720,scrollbars=no,noresize'); return false;">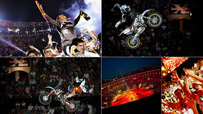 WIDTH="203" HEIGHT="114" BORDER="0" ALT="">
Words rarely do an X-Fighters justice, but pictures help. onClick="window.open('http://espn.go.com/action/fmx/gallery?id=5404981','Popup','width=990,height=720,scrollbars=no,noresize'); return false;"> Gallery »
Since he joined the tour in 2007, Maddison has been a consistent threat, but it wasn't until last year at Calgary that he broke through to win his first event. Since then, he's battled a series of injuries and been unable to reach the top of the podium. But in Madrid, he needed to go through Moscow champ Levi Sherwood in the quarterfinal and current tour leader Andre Villa in the semi just to have a shot at Rebeaud. None could keep him from his second-ever tour win.
Maddison's win wasn't the only comeback story of the night; Rebeaud experienced his first top-three finish since breaking his arm and compressing his lung earlier this year while training for the tour. This was only Rebeaud's second event since his injury, with Moscow being his first, and nobody expected him to do as well as he did. On top of performing his signature tricks like the ruler flip and under flip in the final, Rebeaud added the cordova flip to his repertoire.
Tour leader Villa continued to be Mr. Consistent, beating local rookie Maikel Melero in the quarterfinals, only to be served by Maddison in the semi. Nevertheless, Villa's runs, with tricks like his signature holy grab indy, turndowns, and under flips, were strong enough to earn him third. He maintains his overall tour lead, thought Maddison is now just 45 points behind him.
Local hero Dany Torres didn't have the same heat he brought to the Plaza de Torros last year, when he won this this event. That didn't keep the hometown crowd from going nuts throughout his runs, which were filled with a seat-grab indy flip off the 110-foot jump, a beyond-inverted turndown, and a 360 nac nac. Torres rode well but it wasn't enough to convince the judges when Torres faced Rebeaud in the semifinal.
The two letdowns of the evening had to be the performances of Moscow winner Sherwood and Egypt winner and birthday boy Adam Jones. Both riders were favorites coming into the Plaza, but Sherwood let his nerves get the best of him and pulled an uncharacteristic dead sailor on his first jump of the quarterfinal, followed by another half-thrown no-footed can. Unlike Sherwood's mistake, Jones didn't have any major bobbles, but it was evident that he simply wasn't riding at the same level as he did in front of the Great Sphinx.
The six-round series heads to the abandoned Battlesea Powerstation in London next month for the second year in a row, before finishing off in the historic city of Rome, Italy in October.
2010 Red Bull X-Fighters: Madrid, Spain