The second round of the 2011 Red Bull X-Fighters World Tour in Brasilia, Brazil went down Saturday and it was Nate Adams who emerged victorious. After winning the Red Bull X-Fighters overall title in 2010 without winning a single event, Adams' win in Brazil was long overdue. And with more than 90,000 Brazilian FMX fans chanting his name, Adams was visibly awestruck.
2011 Red Bull X-Fighters World Tour: Brazil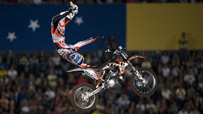 WIDTH="203" HEIGHT="114" BORDER="0" ALT="">
A closer look at the action from Brazil. Gallery »

Starting the event with an 11-man field (Spain's Dany Torres pulled out at the last minute with a foot injury), Adams squeaked through the heats and semifinals, eventually meeting Australia's Robbie Maddison in the finals where they battled head-to-head. Having finished seventh at the first round in Dubai, compared to Adams' third, it was assumed that Maddison didn't have what it took to deal with Adams, but he threw down one of the best runs we've seen from him in a long time. With a huge ruler flip, airliner and other flip combos, he had the reigning champion in a tough spot as Adams lined up for his final run.
But in typical Adams' fashion, technical tricks and extraordinary use of the massive course, mixed with the excitement of the crowd allowed him to take his first X-Fighters win in more than a year. One-handed takeoff backflips, cliff hanger flips, lazy boy flips and a host of banger right-side-up tricks gave Adams the edge over the hard-charging Australian.

Rounding out the podium was Norway's Andre Villa, who was second in points coming into Brazil after finishing second in Dubai. Villa threw down his consistently flawless runs with smooth style and extension, but going head-to-head with the unstoppable Adams in the semifinals didn't give him the odds he needed to advance to the finals.
Adams' win in Brazil gave him the bump he needed to jump into the overall lead with 165 points, ahead of Villa's 145 points and Maddison's 110 points. Torres, the winner in Dubai and previous points leader, got knocked back to fourth place following his absence in Brazil.
The series now heads to Rome, Italy on June 24, where the event will be staged at the legendary Stadio Olimpico.
2011 Red Bull X-Fighters: Brasilia, Brazil
2011 Red Bull X-Fighters points standings