As predicted, the birthplace of the Red Bull X-Fighters tour proved to be the most exciting stop of 2011 so far. Ten years ago, Red Bull organized a risky and experimental FMX contest -- which took place inside the very same bullring, Madrid's Plaza de Toros -- and ended up creating what has become the sport's most prestigious contest series. Known for the loudest fans on the circuit, Madrid has always been a favorite of the riders and fans alike. If there's one stop on the year where riders let it all hang out, it's Madrid. And that's exactly what Dany Torres did on Friday night.
2011 Red Bull X-Fighters World Tour: Madrid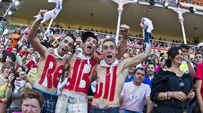 WIDTH="203" HEIGHT="114" BORDER="0" ALT="">
All the visuals from the infamous Plaza de Torros. Gallery »

Being his eighth time competing in the Plaza de Tores, local boy Torres has built up a huge Spanish fan base and was an obvious crowd favorite coming into the event. Torres put down multiple flawless runs in Thursday's qualifiers and throughout Friday night, ultimately defeating a hard-charging Blake 'Bilko' Williams in the two-minute final. After a freak accident at the last round in Rome, Italy, where he crashed on a saran wrap to nac nac flip, taking him out of competition in the early rounds, Torres knew he had to regroup in order to get his second win of the year. Coincidentally, it was his second career win in the Plaza de Toros.

The final that saw an overly-excited Williams matched up against a cool, calm and collected Torres, and between the two of them, so of the best riding seen on this year's tour went down. Absent from Torres' trick list was his infamous double grab flip, but that didn't stop the Spaniard from throwing down huge tricks, some of which had never been seen before. Along with some sort of super can Indian air flip, Hart Attack Indian air flip, and a dead body flip, Torres unveiled a trick that he's obviously been working on in the privacy of his own FMX park; A McMetz to cliffhanger. Though there was no flip involved, the trick was technical enough to win him the Swatch Best Move award and allowed him to edge out Bilko for the win.
Unexpected surprises seemed to be the theme for the night. Earlier, it was discovered that Australia's Robbie Maddison wouldn't ride his quarterfinal, as well as the rest of the night. "Robbie had a mild injury from a few crashes he had in practice, so he was taken to the hospital as a precaution, where they're keeping him there under observation," explained Red Bull X-Fighters Sport Director Tes Sewell. "He's actually in a really good mood and wants to be here, but he's just being smart, staying in the hospital where he's actually celebrating his 30th birthday." Maddison's DNS gave local Spaniard Maikel Melero a free pass to move onto the semifinal.
The second shock on the night came in the form of an explosive quarterfinal matchup between Andre Villa and Williams. Coming into Madrid sitting second in the points standings, Villa has ridden consistently solid event after event, nabbing three podium spots. Bilko has yet to podium this year. But as we've come to expect, anything and everything can and will happen at X-Fighters. With the help of his patented 360 cliffhanger, a massive holy grab to double grab Indian air, and a cliffhanger flip to no hander-lander, Bilko beat out his Monster/Fox Racing teammate, sending an obviously disappointed Villa to the showers earlier than he would've liked.
Continuing to prove that he's more than worthy of his new Red Bull sponsorship, Australian newcomer Josh Sheehan remained level headed and consistent in Madrid, making it past a somewhat wounded Adam Jones (who hurt his foot in practice) in the quarterfinal, where he then got beat out by a flawless Torres in the semifinal. With two third place finishes in a row, Sheehan has become a problem for the veterans on tour.
Sitting out this round due to an injured shoulder and ankle, tour leader Nate Adams has been surpassed by Villa in the overall points, albeit only five points ahead. With four stops down, the tour heads to Poznan, Poland on August sixth, where the world-class X-Fighters course will be built inside of the massive City Stadium.
2011 Red Bull X-Fighters: Madrid, Spain
2011 Red Bull X-Fighters points standings