What do an Australian, an American and a Norwegian have in common? They all graced the podium at the third round of the 2011 Red Bull X-Fighters World Tour in Rome. Despite deteriorating course conditions, two-time World Tour champion Nate Adams rode flawlessly in the finals, beating out Andre Villa in the head-to-head matchup to make it two in a row. But can't-catch-a-break Villa (this is his second second-place finish this year after finishing second overall last year) in no way took it easy on "The Destroyer." Both Villa and Adams put down mistake-free two-minute final runs, with Villa throwing his signature holy grab indy, ruler flip, cliff-hanger flip, along with other technical tricks. But it was Adams' two 360 combos and one-handed takeoff to nac nac flip that gave him the edge, swaying the judges in his favor.
2011 Red Bull X-Fighters World Tour: Rome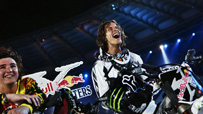 WIDTH="203" HEIGHT="114" BORDER="0" ALT="">
All the visuals from the ancient city of Rome. Gallery »

In his first competition as an official Red Bull team rider, Australian rookie Josh Sheehan proved that his shiny new Red Bull helmet is well deserved. In only his second Red Bull X-Fighters appearance, with his first being in Rome last year, Sheehan's final run against Adams featured very similar tricks, including numerous 360 combos, one-handed takeoff to ruler and no-footed nac nac indy. But after realizing he had missed a few tricks and was riding on the edge, Sheehan pulled off course, essentially handing the transfer spot to Adams. However, his solid efforts put him on the podium in third.

Qualifying earlier in the day with a higher score than any previous rider had gotten in X-Fighters history, Dubai winner Dany Torres looked as if he was a shoo-in for the win in Rome. However, proving that one small mistake can cost you the win, Torres' first jump in his first heat matchup against Blake Williams went south after his attempt at a Saran Wrap backflip to nac nac ended with him flying off the track and off the bike. Torres walked away from the crash but was obviously upset about the mistake.
"I don't know why I crashed, but I think it's because the track is very slippery and when I went to put my foot in position for the nac nac part of the trick, it slipped off the peg and made me crash," a disappointed Torres explained. "Now I just want to go back home to Spain, take a break and prepare for Madrid."
Adams continues to lead in points heading into the next round in Madrid, which takes place July 15 at the Plaza de Toros. Gaining yet another 20 points on Villa in the overall points race, Adams undoubtedly is inching closer and closer to what would be his third consecutive Red Bull X-Fighters World Tour title. Unheard-of.
2011 Red Bull X-Fighters: Rome, Italy
2011 Red Bull X-Fighters points standings