On May 14, at the end of a long dirt bike session at one of his favorite Southern California riding spots, Mike Metzger rode toward his truck before noticing that his riding partner, Myles Richmond, wanted one more hit. Metzger said to himself, "Why not?" and chased down Richmond, falling in line behind him to toss a final monster backflip. Motocross racers are generally superstitious and never say "just one more lap," but who could resist the natural dirt hits of Reche Canyon, especially the 120-foot step-up they were hitting for the cameras on the new film "On the Pipe 6"? As he approached the takeoff for the final run, Metzger saw he was getting too close to Richmond's rear wheel and slowed his momentum to avoid landing on his buddy -- a calculation that left him three feet short of the landing.
Mike Metzger Retrospective Gallery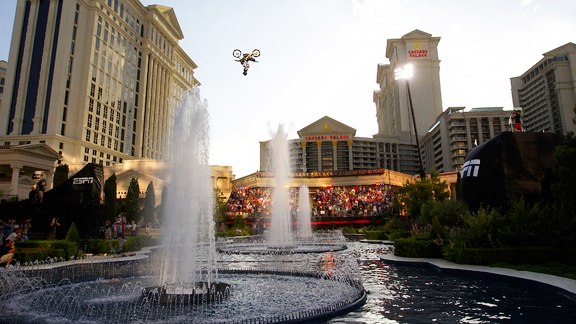 WIDTH="203" HEIGHT="114" BORDER="0" ALT="">
For over a decade, Metzger has set trends and expanded definitions of what's possible on a motocross bike. Gallery

The failed attempt left him on the dirt near the landing of the jump. Prior experience helped Metzger diagnose the situation; three previously broken femurs made it easy to come to the conclusion that he would need a rod shoved in his right leg. But it was his rapidly swelling right elbow that caused the most concern. X-rays later confirmed eight fractures in the elbow. Judging by a medical chart, this would seem like a bookending moment: Mike Metzger's career ends in the same canyon where it began 15 years ago when he was a featured freerider in the original, game-changing "Crusty Demons of Dirt" video. But if you judged Metzger's career by medical charts, you'd think he was dead by now, not one of the most influential riders in freestyle motocross's young history.
Eight hours after returning home to Menifee, Calif., from surgery on his broken right femur and elbow (he also broke his right hand), Metzger was rushed back to the hospital with compartment syndrome in his right hand. He would later say he felt like his hand was "dying." To relieve pressure on the muscles, the surgeon sliced open his forearm and biceps and left him that way for 36 hours before resewing -- but not before throwing in a procedure for carpal tunnel, which made it four surgeries in six days.

Metzger's first public statement after sustaining the injuries? On May 22 he tweeted: "Home and in my own bed. 6 days, four surgeries. Still got all my own arms and legs and body parts. Carpal tunnel surgery, too. Made it!!!" He then vowed to return to X Games for the first time since 2004 to compete in the newly resurrected Speed & Style event. He had nine weeks to prepare.
Following the title pages, the first seven seconds of 1995's "Crusty Demons of Dirt" show a wiry, tattooed young man wearing a leopard-print, collared bowling shirt with a bottle of Jack Daniel's in the breast pocket dancing wildly to White Zombie's "Super Charger Heaven." Surrounding guests make space for his flailing arms. The next shot is the same wild man jumping a No. 387 Yamaha YZ250 with his arms extended and his legs hanging off the back. He doesn't get back to the foot pegs and his crotch absorbs most of the impact of landing, after which he rides away in a cloud of dust. That 11 seconds of video served to introduce Mike Metzger to the world.
The trick was a very early attempt at a Superman, and it's funny to look back and see such a basic freestyle move thrown so roughly, but when Metzger threw himself out there for Fleshwound Films' cameras, not only had the sport of FMX not yet been founded, the term didn't even exist.
"We met him out in the dunes in Glamis," says Fleshwound's co-director, Jon Freeman, who, along with Dana Nicholson, created the "Crusty" empire. "We were out there riding with Jeremy McGrath and some of the other guys and up comes this little wiry kid and he starts jumping just as big as the other guys. We were out there making the first 'Crusty Demons of Dirt' and all of a sudden this kid was bouncing off these sand dunes throwing his legs up over the handlebars and we were going, 'What the heck is that?' We were like, 'This kid is a crazy little guy. We got to hook this guy up, get him in the film.' Metzger turned out to be one of the originators of freestyle motocross."
Metzger's contributions to FMX are deep enough to have earned him the nickname "The Godfather," but that status isn't wholly evident in his competition résumé. In fact, he has only two major contest victories to his name and they came on the same weekend -- but they happen to be two of the most storied wins in the sport's history.
By the summer of 2002, the freestyle world was buzzing with the news that Caleb Wyatt had successfully backflipped a full-sized motocross bike for the first time ever. The trick had been the source of endless rumors after Carey Hart unsuccessfully attempted one at the 2000 Gravity Games, and as riders prepared for the 2002 X Games those rumors had reached a fever pitch. Just weeks before the event, Metzger successfully executed the first backflip off a proper freestyle ramp (Wyatt's flip was executed off a custom-built hit). Then at X Games, he performed the first-ever back-to-back backflips to win the Freestyle event, and he took home gold in Best Trick with a backflip as well -- becoming the first rider to land the trick in competition.
Metzger has five X Games medals (gold and silver from Winter X Best Trick in 2003 and 2004, silver from Step Up in 2002) but has no wins from Gravity Games, the Dew Tour or the Red Bull X-Fighters. But he never wanted to be defined strictly by his results on the freestyle course. In what many assumed would be his last X Games appearance, in 2004, he finished in the top 10 in four different disciplines, including SuperMoto and Step Up. It provided a glimpse into his next six years of riding, which were filled with every conceivable discipline of riding, including Supercross, Hollywood stunt doubling and world record attempts. In short, he lived his favorite one-liner: "I just want to ride my dirt bike."
But when you ride a dirt bike like Mike Metzger, there are consequences. In January 2007, he attempted a barge-to-barge backflip over the Long Beach, Calif., harbor for an episode of the Discover Channel show "Stunt Junkies." He missed the landing, was ejected from the bike and flipped like a rag doll as the bike slid into the Pacific. He suffered a broken back that required three fused vertebrae and had to learn to walk again.
That was the first of five broken backs. He's also busted his teeth, shattered his wrists and lost count of the number of concussions he's suffered. At this point, he's as good at learning to heal as he is at flipping a dirt bike.
"I think [healing] is an art form in itself," he says. "If you can put up with the pain and push yourself through it, exercise as much as possible and have the blood flow through your body, that helps heal quicker than anything. The rehabilitation part that works is kicking yourself in the a-- and making yourself fight pain with pain. That [attitude] probably comes more from needing to be on my dirt bike to feel like I'm doing the right thing whether I'm healthy or not."

Knowing that two and a half months before [X Games 16] I was laid up with injury in the trauma room getting a metal rod put in my femur and two screws and baling wire to hold my elbow together, I couldn't be happier.
-- Mike Metzger
The 42 miles of single-track trails by his house were enticing and even though the soreness from the surgeries three weeks prior was overwhelming, it wasn't enough to stop Metzger from climbing aboard his KTM 505 for a short and slow ride. He had to know: X Games 16 was six weeks away and he needed to gauge his recovery. He'd stopped making guarantees about lining up for Speed & Style and the phone messages were filling his mailbox. "I was hiding from their [XG officials'] phone calls, just waiting to see if I was going to feel better," he admits.
Metzger didn't even jump a ramp or attempt a flip until several days before the Aug. 1 event. He waited until the last possible moment to confirm his attendance beside the other 11 invited riders. Then, in the preliminary rounds, Metzger beat out Ronnie Renner, Myles Richmond and Jeff Kargola to grab the eighth seed in the eight-man main event. Nine weeks after the crash. Nine weeks after breaking his femur.
"When they said I got the last position, eighth place to advance to the final I was ecstatic," Metzger says. "I was like, 'Dude! I did it! I made it.'"
A few hours later, on ESPN in prime time, Metzger asked his quarterfinal competitor -- Travis Pastrana -- for some advice. Pastrana graciously explained his method to Metzger before the gate dropped. Then Pastrana proceeded to win the race by 6.63 seconds. Metzger rode well and was within a half-wheel for much it, but he didn't have quite enough to topple the eventual event champion. He didn't need to.
"Knowing that I was laid up in the trauma room getting a metal rod put in my femur and two screws and baling wire to hold my elbow together two and a half months before, I couldn't be happier," he says.
Considering Metzger's last freestyle result was in 2005 (a 10th at the Dew Tour), and considering the number of hurdles he had cleared in those five years to simply make it to the starting line, you'd be forgiven for suggesting to Metzger that the result represents something of a comeback. But Mike Metzger won't allow himself to be defined by anyone but himself.
"I don't see any part of it being a comeback," the Godfather of Freestyle responds when asked about his performance at X Games 16. "I didn't go anywhere."