Summer X Games is the Holy Grail for freestyle motocross riders. If you're one of the fortunate few to be invited, the opportunity to advance your career is like putty in your hands. For Metal Mulisha's Jimmy Fitzpatrick, not only did he have an invite to ride Best Trick at X Games 16, but in his and his crew's mind, he had the gold medal locked down with the front flip he'd be throwing.
Fitzpatrick's comeback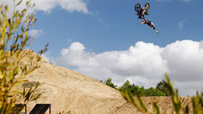 WIDTH="203" HEIGHT="114" BORDER="0" ALT="">
Metal Mulisha's Jimmy Fitzpatrick is back to his old tricks. Gallery

After months of hucking himself into his foam pit, and just one week out from X Games, Fitzpatrick crashed on a routine Superman seatgrab backflip at Brian Deegan's house while filming for "On the Pipe 6." Badly breaking his wrist, Fitzpatrick was forced to pull out of X Games Best Trick and put his dreams on hold.
"He put a lot of time in the pit and had it dialed, so to see him get hurt so close to the event and step down from his very-first X Games was a bummer," said Mulisha teammate Ronnie Faisst. "You could see how disappointed he was knowing that he had a trick that was capable of taking home a gold medal."
Six weeks later Fitzpatrick cut his cast off and re-mounted his bike. It's now been two and a half months, and the tough-as-nails Mulisha rider is back on his game, shredding every inch of his riding compound in Temecula, Calif., and loving his newfound motivation. And his goal for 2011? Land the front flip and bring it to X Games, of course.