This past weekend, Switzerland's premier freestyle motocross competitor and 2008 Red Bull X-Fighters champion, Mat Rebeaud, put on a two-day riding clinic at his private training facility in his hometown of Payerne. The clinic was the most recent "Under My Wing" event, a Red Bull-sponsored series that gives aspiring young athletes the chance to learn from and ride with their idols. Previous programs have been hosted by BMX rider Daniel Dhers, surfer Ian Walsh, and Dutch motocross racer Marc de Reuver.
Mat Rebeaud: Under My Wing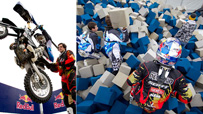 WIDTH="203" HEIGHT="114" BORDER="0" ALT="">
Mat Rebeaud spreads the FMX gospel among Switzerland's aspiring youth motocrossers. Gallery

In a sport characterized by ever-present risk and incredibly expensive barriers to entry, the question of where the next generation will come from is a serious one. Rebeaud's clinic was the first time riders were given access to such high-level training facilities at such a young age. Whether or not the clinic spawned future FMX talent of Rebeaud's caliber won't be known for years, but it's nevertheless notable when someone like him so actively invests in a crop of such young kids.
The eight riders, selected from the Switzerland Motocross Championship, ranged in age from 12 to 16 and had little or no freestyle experience. The two-day session began with a foam pit so the kids could get used professional-style jumps. "All the kids jumped into the foam pit, but we didn't have them do any backflips or any crazy tricks like that. It was just for the experience of hitting a ramp," he explained.
After they got their fill of foam, the groms then took what they had learned to the real deal -- dirt. Rebeaud told ESPN.com, "In the beginning, when they showed up to ride the course, they were all a bit scared after I told them that all of them would be jumping the ramp. But once they all relaxed and began to have fun, it became pretty easy for them." Set at 33 feet, every single kid ended up jumping ramp-to-dirt, some even trying basic tricks like heel clickers, cliff hangers and nac nac's.
"There were three goals for the day: First one was to learn about the sport of freestyle motocross, the second was to just have fun, and the third goal was for nobody to crash and get hurt -- and we reached all those goals. It was a good time," said a relieved Rebeaud.