Australian rider Josh Sheehan claimed his first Red Bull X-Fighters win in front of his home crowd on Saturday at Cockatoo Island in Sydney, Australia after advancing past American rider Adam Jones in the first heat, double-backflipping his way ahead of Spanish rider Dany Torres in semifinals, then beating Kiwi rider Levi Sherwood in the final head-to-head match-up with yet another double backflip in his run.
Red Bull X-Fighters Sydney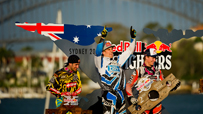 WIDTH="203" HEIGHT="114" BORDER="0" ALT="">
Sheehan takes the hometown win in Sydney, as Torres takes the 2011 series title. Check the photos. Gallery

"Doing the double is so hard and it puts a lot of pressure on your mind to do it with another 10-12 tricks in your run," Sheehan said, after finals. The trick was particularly impressive given the windy conditions at Cockatoo Island, which sits in Sydney Harbor. "It takes a toll on your head! You've got to stay calm." Sheehan took a bronze medal in Moto X best Trick at X Games 17 with a double backflip, and says he learned the trick this summer under the tutelage of Travis Pastrana, the original master who landed the first-ever double backflip in competition in 2006. Sheehan, showing tremendous confidence to throw them in the middle of competition runs, now appears to have them dialed.
Those double backflips were enough to win the battle but not the war: The X-Fighters' biggest prize at the sixth and final 2011 stop went to Torres, whose third-place finish on Saturday earned him enough points to seal the deal for the overall 2011 Red Bull X-Fighters title, in what turned out to be a last-man-standing finish. Torres came into Sydney trailing 40 points behind 2009 and 2010 champ Nate Adams, but Adams ended up sitting out Saturday's event with a torn rotator cuff and bicep tendon and a cracked humerus bone; Torres' win foiled Adams' hopes for a three-peat.
"Me and Dany were giving each other a run for our money all year, but you can't win them all," said Adams, watching from the sidelines in Sydney with his left arm in a sling. "I'm happy I had a good season: I got two wins at X Games and three wins at X-Fighters -- and a third -- and that's not a bad ratio for this year. I just had a crash at the wrong time, and that's it."
A run of injuries shook up this year's Red Bull X-Fighters series and the sport of FMX in general in 2011: Adams also missed the X-Fighters event in Madrid after jamming his finger and injuring his knee and shoulder. Andre Villa, in third place overall heading into Sydney, broke his femur at the X-Fighters event in Poznan, Poland in August. Blake Williams, in fourth overall before Saturday's event, injured his knee while training for X Games 17. Eigo Sato, in fifth overall before this weekend, broke his wrist and ankle on Friday. Torres himself was recovering from strained metatarsals and a sprained ankle this season, and Sheehan has been bouncing back from a shoulder separation injury. Robbie Maddison, in sixth place heading into Sydney and a perpetual podium threat, was airlifted to Sydney's Royal North Shore Hospital after a crash in practice on Thursday. Read that closely: Every last one of this year's top six finishers has been injured in 2011, a sure sign that everyone has been pushing themselves to the outer-most limits to progress the sport. Sheehan says he has a better understanding of why, now that he's had a taste of victory.
"I know it's possible now and I want to go for the overall win next year," Sheehan said. He spent the first part of 2011 dominating European contests on the International Freestyle Motocross Federation (IFMXF) circuit, and took third in this year's X-Fighters contests in Rome, Italy and Madrid, Spain, proving he's now a force to be reckoned with in any competition. So, what's next, after mastering the double backflip? All eyes will be on Sheehan, looking to find out, as he returns to IFMXF competition in Riga, Latvia next month on October 22 to resume his quest for the FIM Freestyle MX World Championship title.
2011 Red Bull X-Fighters: Sydney, Australia
2011 Red Bull X-Fighters final standings