2010 AMA Supercross/Motocross champion Ryan Dungey is, as they say in the professional athlete business, taking his talents to KTM for 2012. He'll rejoin Roger DeCoster, the man who plucked him from the amateur ranks in 2006 and oversaw his championship run with American Suzuki. The reasons for Dugey's departure from Suzuki are mostly rumor at this point -- Dungey himself declined to offer specific reasons -- but there is no denying that he experienced mechanical trouble at various points this year have left some people wondering, 'What if?" Dungey finished third in the Supercross title race and second in Motocross.
ESPN reached Dungey by phone at his home in Minnesota, where the 21-year-old is enjoying some down time before heading to Temecula, Calif. to begin testing with KTM until the start of the Supercross season on January 7.
Ryan Dungey's 2011 season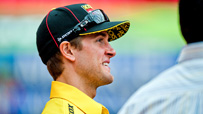 WIDTH="203" HEIGHT="114" BORDER="0" ALT="">
2011 will officialy be the last year Ryan Dungey will be on a Suzuki. Gallery


ESPN.com: What lessons did you learn in 2011?
Ryan Dungey: A lot of races this year, when it was winding down to the end of the race and you thought that's where you'd settle, something would happen. It was a good reminder that it's not over 'till it's over, even with the championship series.
How were you always able to take the high road during some of the bad luck moments you had in 2011?
What's done is done and, in the moment, no matter how heated and pissed off, I really think it's important not to lose your temper and to respect your sport. It's easy to be mad and say something on television or in an interview that makes you kind of look dumb.

Going through some of the things we did, a couple DNFs and Southwick [missed race start] and everything like that, it was definitely hard and, in my head, I was lost a little bit, like 'What's going on here?' Kind of in a little disbelief, like I kind of can't believe this is happening right now. But I'm a big believer that everything happens for the right reasons and I know that I'm going to do everything I possible can and put myself in the best position I can. There are some things that are out of your control like a bike DNF or electrical problems.
Stuff happens and there's nobody to blame. It's racing. It's tough sometimes but it's part of the deal and I think it's important to not get caught up in it because it can really tear you down mentally ... if you let it. I think it's important to keep moving on and not dwell on it. Fix the problem and learn from it.
So what was your first thought at Southwick, where you missed a start due to an electrical problem?
A little over a minute went by [after the gate dropped] and they were out there on the track doing their first lap and I was just thinking 'I can't believe I'm losing the championship this way.' You think you lose a championship on a bad day or something like that. You don't think you're going to lose a championship because your bike didn't make it to the line. My mom and I were walking back and I was kind of fired up and then my bike came over the hill and I put my goggles on and made the best of it. Despite everything that happened that day we did a really good job of limiting the damage. For what the day was it could have been a lot worse.
On another note, something like that could be inspiring for someone else to never give up.
You get accused of not letting people know how you really feel, not saying what's really on your mind. Is "perpetually positive" just how you are?
It's not that I don't want to let people into my life. I think that there are certain ways that I can let people into what I'm thinking but I don't think people understand that I've always lived this life of forgetting the negative and getting out of that pissed off attitude. My parents taught me to keep moving forward and I don't know how else to be. It takes so long to build up to being a good person and you can ruin it in an instant.
So many people want to pinpoint one reason for why you won't be riding for Rockstar/Suzuki in 2012; the bike, the money ...
No. What Suzuki had, they made the best of everything they ever did. Suzuki is a great team, a great corporation and I've had a lot of success with them and I started my professional career with them. It's a solid team, a great group of people.
What could have kept you at Suzuki?
I'd rather not answer that.
Why KTM? It's an unproven program that has never been on the podium in the Supercross class. Do you feel like you're taking a big chance?
KTM has been a really dominant manufacturer over in Europe and I think they're ready to come over here in America and show that as well. I just really like the commitment from the team, the people and the manufacturer. I'm looking forward to the change. It's a challenge and I'm looking forward to winning championships with KTM. I like what they're about and I think it's a good fit for me. I really do believe that. I think it's going to be a good solid bike and I'll leave it at that.
If Roger DeCoster and Ian Harrison were not at KTM would you be riding for them in 2012?
I've seen the progress that Ian and Roger have made there and it's really cool to see how much KTM trusts them. I've been able to work with Roger a lot and 2011 was the first year I hadn't. He brings a lot to the table, he a great guy, he's raced, he's done it and he knows a lot about bike setup; to answer the question -- probably not.
Will you have a bike that can win on January 7 at Anaheim?
Yes. We will have a bike that can win. I believe so.