Motocross is one of the most physically demanding sports in existence. In a day and age where training workouts and diet regimens have reached an all time high, fitness in motocross is no joke. No one knows this better than Charles Dao from iCON Sports Performance. Dao has an extensive background in athletics and is passionate about what he does. Focusing on targeting workouts to your specific discipline, he keeps the mind and body in optimum performance for maximum results. With Temecula being home to the motocross community and iCon Sports Performance in nearby Murietta, it makes it easy for Charles Dao to tend to the top racers and FMXers needs. Recently, I had a chance to speak with Charles on training and being involved with motocross.
Inside iCON Sports Performance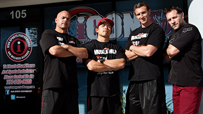 WIDTH="203" HEIGHT="114" BORDER="0" ALT="">
Take a look inside Charles Dao's training facility aimed at action sports athletes. Check the photos. Gallery

ESPN.com: Tell us a little bit about what you do?
Dao: I'm the founder of iCON Sports Performance and Wellness Alliance out here in Murrieta Calif. It's a premiere training facility catered towards the action sports industry. We've got an extensive team of sports med personnel and trainers that specialize in working with our athletes from supercross, FMX, rally, off-road truck racing, and superbike. Having a history in sports medicine for over a decade, I wanted to develop a comprehensive training program that truly enhanced the physical capabilities of riders to raise their level of racing. Regardless of where their current level of competition stands, I really want to hone their physical skills, get them mentally prepared, and help them pursue their dreams of being a top racer. And I'd like to think we've done a pretty decent job thus far.
Do you have a formal education and how long have you been training all the motocross athletes?
I graduated from CSUF in Kinesiology/Athletic Training back in 2003. I worked at ProSport Physical Therapy for about three years and deferred my DPT (Doc of Physical Therapy) to pursue a job offer in the Inland Empire, where I rooted my passion for the moto industry in 2005. I had the pleasure to work with talented riders at that time like Josh Hill, Jay Marmont, David Pingree and Ronnie Faisst early on in my career, and fortunately, my vested efforts took off from there, leading to guys like Justin Brayton, Jeremy Stenberg and Brian Deegan. After helping them with their breakthrough seasons, while turning heads -- they've been gracious enough to credit our training program as part of their success. Every year we seem to be expanding a little bit at a time and venturing off into different genres of motor-related racing. We're really looking forward to continuously putting our guys on the podium and making a reputable impact throughout the action sports industry.
How did the idea of starting iCON Sports Alliance come about?
I initially started in the sports medicine field solely to help rehab my younger sister Kim, who was an upcoming tennis star but experienced a life-altering accident from a drunk driver. I couldn't stand watching her dreams being stripped away like that and wanted more than anything else in the world to give her that chance to compete again. So we took a more aggressive approach to her therapy and implemented a sound injury prevention aspect to her strength training program and got amazing gains in a short amount of time. To give someone a fighting chance to rekindle their hopes is an amazing feeling. As I researched more about other athletes sustaining similar misfortunes, I realized that there were a lot of holes in too many athletes' programs. I suddenly found my calling, but with new revitalized inspiration, and decided to bridge the gap between my clinical studies of PT and merge it with the strength and conditioning. I got offered a job opportunity shortly after in Murrieta to implement these hybrid training protocols, left the corporate world after a few years, then started iCON Sports Alliance. It has allowed me to focus my energy into a more specific niche of extreme sports athletes.
Were you into motocross before that, and do you ride?
I never rode dirt bikes, BMX or skated, but was always amazed to watch these athletes compete during X Games growing up. Ironically, I moved to Murrieta which turned out to be the mecca of action sports. As a student of biomechanics and exercise physiology, I was a little taken back by the lack of sports science that backed the majority of the racers' training programs. It was based more on advise from ex-mechanics of some rider that were good friends of a cyclist. I believe our involvement with the latest development in the athletic realm of sports performance has given us the upper hand, and I'm proud of what we've accomplished, having taken a lot of heat dispelling moto-myths and introducing scientifically backed training protocols that have clinical research to prove effectiveness. It's tough to argue science, especially when it's applied correctly and has the track records to prove it.
You seem to train every major top guy in our industry, who are some of your clients?
We've been blessed to work with such a wide myriad of extreme sports athletes from Cole Seely to Robbie Maddison, Jackson Strong to Chris Fillmore. I've been with both Justin Brayton and Jeremy Stenberg for five years, and Brian Deegan for four years now. We truly feel our straight forward approach, old school gritty, no excuse, survival of the fittest mentality has helped put our athletes as front runners -- alongside introducing more unorthodox and unconventional exercises to get the job done. We're taking dedicated, hard working, hungry athletes with average results and optimizing their mental and physical capabilities to reach that next level of performance. Put them in a science-based program with proven history of success, and you've got a formula to replicate well-conditioned warriors ready to battle. I'm really proud of all the athletes involved in our program, and seriously looking forward to raising that bar of competition for the action sports industry so that we all can receive the same recognition as larger national sports organizations. Hopefully, one day things will change and all the extreme sports athletes receive that level of respect for all their devotion to our industry.
What makes your training facility unique from other gyms in your area?
We're definitely one of the most comprehensive performance facilities that offer athletes the convenience to get a structured pre-season training regimen, in-season maintenance programs, and onsite rehab treatments all under one roof with the most knowledgeable well educated staff imaginable. We don't have all the bells and whistles or shiny stationary equipment -- just the bare necessities, creative minds, and a big bag full of tricks to seal the deal. We prefer bringing that old school "Rocky" meat locker vibe and working diligently as a team to achieve our goals. To be completely honest, we're definitely not for everybody and neither is the podium -- we want the athlete who is willing to sacrifice the most and grind the hardest. But as long as you're training somewhere and implementing some sort of program to better yourself, we're totally pumped for you.
How important is nutrition for a motocross athlete?
Nutrition for any elite athlete is comparable to the type of fuel you'd use on a high performance race vehicle. You wouldn't use 87 octane in NASCAR would you? The same goes with feeding your body the right type of energy to perform optimally. Timing, ratios, portion sizes, purity, periodization -- there's a pretty extensive formula that goes overlooked, especially when it comes to performance needs such as endurance and recovery. It's not the end all to being an amazing athlete, but it definitely plays an intricate variable to overall athletic performance. There's always space for leeway and a place for balancing your caloric intake, but for the most part, keep it simple and make it a lifestyle.
What about the mental aspect of training?
The mental aspect for athletes is usually the most neglected unfortunately -- it's a shame that so many top riders dedicate hours of practice on the bike, endless sweat in the gym, and heaps of nutritious foods to nourish their bodies but absolutely nothing to strengthen the most dangerous weapon of any athlete, the mind. When your body is feeling strong and you've got great control of your bike, there's a confidence that goes along knowing that you can throw down and sprint the entire race battling other riders. But when things aren't going your way, like recovering from a mistake or maybe overcoming an injury -- all the negative dark thoughts prey on your subconscious. Take a look at all the top athletes industry wide, they are all tough riders that refuse to throw in the towel. Instead they figure out a game plan on the fly, and have the confidence to take on any obstacle head on -- that's the power of being mentally tough, that's what it takes to compete with the best athletes in the world.
src="http://a.espncdn.com/i/story/design07/dropQuote.gif" />
Anybody can be a winner if you work hard enough, and only a few ever become legendary. But we can all live as champions in our own rite.
src="http://a.espncdn.com/i/story/design07/dropQuoteEnd.gif" />
--Charles Dao
After working with so many different athletes and winning various titles in multiple sports, what does being a champion mean to you?
Winners come and go, title holders win and go -- but a true champion in my eyes is one who exemplifies character, has honor, shows respect, lives a life of discipline on every level, someone who savors life enough to inspire personal growth, exudes great energy and shares positivity. A lot of people get caught up in the hype and live too selfishly, thinking the whole world either revolves around them or is entitled to them. People in general need to realize that life is way too short, you will only be remembered by the ones you've impacted the most. I understand we're all humans and make mistakes, but we try to instill this mindset into all our athletes. Anybody can be a winner if you work hard enough, and only a few ever become legendary. But we can all live as champions in our own rite.
Where can people get more info on your training programs and how to get their fitness to the next level?
Please feel free to checkout our website www.iconsportsalliance.com, and follow us on Facebook: Icon Sports Performance and Twitter: @iconsports1 for the latest inside scoop of your favorite action sports athlete. Thank you again for all your valued time and support, looking forward to working with ESPN again soon!