On Wednesday, after two years of filming, editing and production delays, "Nitro Circus: The Movie: 3D" -- the first full-length feature film from Travis Pastrana and the Nitro Circus crew -- is being released in 850 theaters around the United States.
'Nitro Circus' Photo Galleries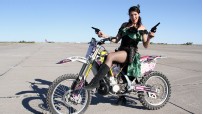 WIDTH="203" HEIGHT="114" BORDER="0" ALT="">
Check out photos from "Nitro Circus: The Movie 3D," the film's June premiere in Hollywood and the recently completed "Nitro Circus Live" tour of Australia. "Nitro Circus: The Movie 3D"

"The Movie" premiere

"Nitro Circus" tour

"If you do one thing next week, see our movie," Pastrana said via phone two days after posting a career-best 13th-place finish July 28 at the inaugural NASCAR Nationwide Series race at Indianapolis Motor Speedway. Besides being the star of the film, Pastrana is one of a handful of folks, including director-producers Gregg Godfrey and Jeremy Rawle, who self-funded the film, believing in the final product from the first filming sessions in 2009.
"If we wanted to make the movie we wanted to make, we had to fund it ourselves," Pastrana said. "We weren't interested in making a movie version of the TV show."
Freed from the restrictions of their MTV show or a major Hollywood production company, the Nitro Circus crew -- which includes Jolene Van Vugt, "Streetbike" Tommy Passemante, Erik Roner, "Special" Greg Powell, Jim DeChamp, Aaron "Wheelz" Fotheringham and Parks Bonifay (as well as a special appearance by Johnny Knoxville) -- was able to dream up stunts of a caliber they were never able to attempt on the show because of insurance and liability issues. But shelling out millions to fund a movie means that if the film tanks at the theaters, Pastrana & Co. lose more than credibility in Hollywood.
"I don't want anyone losing his house," Pastrana said of his friends who backed the film. "If the film does well in the first week, it will be picked up in more theaters. If it doesn't, well, let's not think about it not doing well in the first week."
Known as one of the most fan-friendly athletes in sports, Pastrana doesn't ask much of his fans. He's aware he's built his career as much on their shoulders as on the back of his limit-pushing stunts and boy-next-door likeability. That's why he's commonly the last to leave autograph sessions, satisfied only when he's signed for every fan willing to stand in line to meet him. But next week, he's asking his fans to turn out in droves to see his film.
"If you want to see the 'Bourne Identity,' see it," Pastrana said. "Just wait a couple weeks and see our movie first."
And why should they?
"The coolest part of the film is it's about a group of friends who are pushing one another and pushing themselves to be better," Pastrana said. "It's weird to say this, but it's inspirational. It pushes the bounds of what you think is possible. It will make your stomach drop at times. It gets quiet at times. It will make you laugh a lot. And the stunts are incredible."
Pastrana worries the perception of the film -- that it will be overly violent or filled with rowdy, hard-drinking, foul-mouthed 20-somethings shooting cannonballs at one another, "Jackass"-style -- will keep families away from the theater, and keep parents from driving their kids to see the film.
"It's not that at all. Once they see it, parents will want their kids to get involved in action sports," Pastrana said. "It's rated PG-13. There's no cursing, but there is mild violence, mostly inflicted upon ourselves. People keep saying it's so much better than they expected. But I want them to expect it to be good."
Earlier this summer, at a screening in Los Angeles during the X Games, Pastrana showed the film to industry friends, action sports athletes and a handful of NASCAR drivers. "Jimmie Johnson loved it, and Clint Bowyer couldn't stop laughing. We were all like, 'Man, we're glad we brought Clint to the screening,'" Pastrana said.
At that same screening, Pastrana said one movie reviewer explained the film better than even he could. "She said the movie was different. She said she watches so many movies, and they're all predictable, the same storyline over and over. But in this one, the good guy doesn't always win. Everything doesn't tie up in neat bows. Every movie is an emotional roller-coaster ride. This roller coaster is just a little different."
And, according to its star, worth the price of admission.