Championships are won through a combination of hard work, talent, the right product and the right people in proper position. In American motocross and supercross, KTM has always lacked at least one of those elements.
Ryan Dungey AMA Pro Motocross Gallery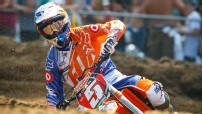 WIDTH="203" HEIGHT="114" BORDER="0" ALT="">
Take a look back at scenes from Ryan Dungey's 2012 Lucas Oil Pro Motocross Championship season. Gallery

When the Austrian brand put Roger DeCoster, a five-time FIM World Motocross champion and an already legendary team manager, in charge of its U.S. factory MX team in 2010, it began a series of events that led to the 2012 Lucas Oil Pro Motocross Championship, the brand's first premier class title in American motocross or supercross, breaking a streak the four major Japanese brands, Kawasaki, Honda, Yamaha and Suzuki, started in 1975.
This industry milestone could not have been won without DeCoster leading the team. It would not have happened without Ryan Dungey on the bike and it also would have been impossible had it not been for the willingness of KTM's upper management to react quickly and allow its new employees to make necessary changes, even if meant pushing forward, by nearly two years, the production of a new motorcycle model.
Before he started, DeCoster made a list, and if KTM wasn't able to deliver he wouldn't be joining its team. He was impressed with the brand's headquarters and testing facility in Austria, but he said even though the company delivered most of what he needed, he still felt scared when he visited KTM's U.S. race shop for the first time in the fall of 2010. He was with Ian Harrison, a longtime colleague whom he brought in from Suzuki.
"We looked at each other and said, 'Are we going to be able to pull this off?'" DeCoster said. "It was the lack of equipment that they had on this side [of the world] and the lack of spare parts. But they let us make changes that we needed."
DeCoster has ridden and managed his way to hundreds of race wins and championships, but this title, won last weekend at the Red Bull Unadilla National in New Berlin, N.Y., two full rounds early, feels especially good because he had something he's never had before with other teams: freedom. "The freedom to do what we needed to do," he said. "But that means we had the freedom to screw up. We kept it in the right directions."
One of those proper directions wasn't just ramping up production on an all-new KTM 450 SX-F years ahead of schedule. It was finding a rider willing to sign up to compete on a bike that didn't exist. The move from Suzuki to KTM was a complete leap of faith on Dungey's part and one could say that Dungey was just returning the favor.
In 2006 DeCoster put his trust in a young intermediate-level rider who had hit the podium only once at the amateur national championships. Dungey was a solid rider, but hardly believed to be a future superstar. He disproved critics and bolstered DeCoster's legendary reputation for picking and molding talent by delivering Suzuki three major championships by the end of 2010.
One year later, when his contract with Suzuki expired, Dungey switched to KTM and rejoined DeCoster. He hadn't even ridden the bike that KTM and DeCoster were developing; it didn't yet exist. Dungey didn't care that people were saying this move was a career killer. He didn't care that the bike wasn't ready or that the brand had never even won a single race in the premier class. He was told that he could win and that's all he needed to hear.
"I promised him that the bike was going to be competitive," DeCoster said. "A lot of people worked really hard and put in many hours. It takes a lot of trust to do what he did, to trust another guy to deliver. Where KTM was before and where we wanted to go was a big step."
If Dungey had any doubts about the decision he made, he didn't show it last October and he won't admit to it even now that he's proved that he, and the brand, can win indoors and out.
"A lot of people said I was crazy but it wasn't about what they thought," Dungey said. "KTM was willing to do whatever it took. The support was there and as far as giving me their word they were always true to it. Winning this first championship for KTM in the USA in the 450 class is a big step not just for me but for the whole crew."
Dungey was, however, surprised at how good he felt on the bike right away, a machine that included a steel frame, something he hadn't seen since he was an amateur. "I was wondering what the change was going to be like," he said. "I thought it was going to be totally different, something I was going to have to adjust to but to be honest, switching over to the new bike was natural."
With 10 wins, Dungey's 2010 championship season was the most dominating ever for a rookie and he's on pace this year to match his first title run. He has eight wins and two seconds. In the Sacramento, Calif., and Texas rounds he trailed James Stewart across the line, closely at Round 2, the best racing of the season by far.
"James did surprise me a little bit," Dungey said. "I kind of wondered with all the swapping of teams and everything how that was going to go but, you know what, it was a long series and I just focused on that. I didn't underestimate the guy."
When DeCoster saw how comfortably close his rider was able to race Stewart at Round 2, he knew the season was going to go well for KTM. "He got beaten but he was close enough," DeCoster said of Dungey. "Especially in the second race Stewart was not comfortable. He had to do everything to stay in front of Ryan and I knew right then that he was OK."
When Stewart left the series with a broken hand at Round 3, Dungey took a huge lead in the standings. Neither he nor the team sat on the cushion of success.
"We continued to ask where we could get better," Dungey said. "I think that's important because you can get on such a high from winning that you just say, 'Oh, the bike's good.' It wasn't like that."
With two races left in the 2012 season, Dungey can still equal his dominating 10-win rookie season. He has 22 career wins in the 450 class, tied with Ricky Johnson for third place on the all-time list. The title is won but KTM and Dungey know well the tried-but-true phrase: "You're only as good as your last race." These last two MX races will generate momentum for the Motocross of Nations in Belgium, where Dungey will lead Team USA for the fourth consecutive year. The MXoN momentum will carry into the Monster Energy Cup, which is slated to feature all the top riders and give teams a very early look at 2013.
Given the tireless work ethic DeCoster has displayed in his many years as a team manager, there's no doubt that he already has a head start on development for 2013. That's why Dungey didn't hesitate when asked to join KTM.
"I watch the guy sometimes and he's so miserably tired and overworked and stressed out with dealing with everything but he'll never show it," Dungey said. "He always keeps it in. I think winning still means more to him than when he won his first GP race. He loves to win."
The success of the 450 motocross title is sweet, the banner day of the brand's legacy in America, but there's still one more day to experience: the day the KTM team wins its first Monster Energy Supercross title. Then DeCoster, Dungey and KTM may feel a little better about resting.