On July 24, Ryan Villopoto was cleared for action to begin on-track preparation for the 2013 Monster Energy Supercross Championship.
Ryan Villopoto Gallery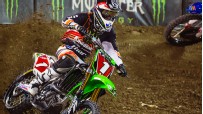 WIDTH="203" HEIGHT="114" BORDER="0" ALT="">
As Ryan Villopoto gets ready to return to racing, take a look back at his incredible 2011-12. Gallery

A little more than three months after the ACL surgery that caused him to miss his third Lucas Oil Pro Motocross Championship series in four seasons, Villopoto was back to working on his speed, fitness and locking in what team he was going to be riding for in 2013.
His plan is to return to racing Oct. 20 to defend his title at the Monster Energy Cup in Las Vegas.
ESPN.com spoke with Villopoto in late August at the end of his first test day back with his team, Monster Energy Kawasaki, where he worked on suspension at Competitive Edge MX in Southern California.
ESPN.com: Did you do anything new this summer while you were out?
Villopoto: I started rehab pretty soon and I was on a bicycle right away. I pretty much did rehab all summer.
Not a single good story?
Not really. We went to Belgium for Parts Unlimited and Monster and went to the GP over there but it was all work-related stuff. No vacations or anything crazy.
You threw out a first pitch recently at an Angels game. How good was your throw?
I stood at the top of the mound and threw a strike. It wasn't 98 mph but it made it there without hitting the ground. And it was straight. For a motocross guy that's pretty good. They gave me no practice throw, nothing. I could have thrown off the mound but what would that look like? Soft.
How hard was it to mentally recover from another knee injury?
It's racing and it happens. You can't stay on top forever. Something's always going to happen. It was a bummer for everybody for sure but it wasn't the end of the world. You take it as it comes and you move on. There's nothing to dwell on.
It was such a low-speed fall. Was your reaction, "Are you kidding me?"
For sure. It seems like a lot of dudes take huge crashes and they get up and then you do something like that and you end up getting hurt.
Physical trainer Aldon Baker has been through a lot of knee injuries. How much have you benefited from his expertise? You have a previous knee injury, correct?
Yeah. Same one, same thing. Having Aldon on board has been a key part to a lot of my success. It's always good to have him in our corner.
Was there anything new that he showed you this time around?
No. It was basically doing standard rehab with a knee. You can't do a lot of things too quickly and you gotta let the ligaments become yours when they're from a cadaver. It's pretty similar to what I did before.
How strong is your knee at this point?
I wouldn't say it's 100 percent. It's pretty close. I think they say to be fully recovered to where the actual ligament is strong is six months. Right now we're at about four and half months.
Are you far off from where you were in April?
I feel good. The guys today saw me ride for the first time since April. They're all pretty stoked. My mechanic said they had done a lot of testing on the bike with Tyla [Rattray] and Jake [Weimer]. We've been trying to get our bike to work better. My mechanic said today, "with the bike working better today, you're faster than you've ever been because the bike's letting you go faster."
That's the way our sport works, we're constantly trying to make ourselves better and the team's trying to make the bikes better and I think we've done that on the bike side.
What was the biggest improvement they've made in the past months?
Suspension stuff for outdoors. That's where we struggled last year and this year. It seems like we've turned a corner on that end for sure. It never ends trying to make it better.
Are you signed for 2013?
No, not yet. It's very close. We're just trying to iron all the details out.
Was there any seriousness to Chad Reed courting you?
I don't really know what the quote was [Reed was quoted by Fox Sports Australia: "Ryan's contract is up and we're talking to him. We really want to try and make it happen. He's a great kid and we've been teammates before."] but I do know that [my] contract was up and it was contract time and I had said from the beginning that anybody out there that wants to talk and has a legitimate offer, there's always time to talk if there is a legitimate offer.
What are the chances of you being back on Kawasaki?
I'd say really high.
Do you expect to be back on top right away or is the Monster Energy Cup something you're using to ease back in?
The plan is to go there and try to win.