LAKE ELSINORE, Calif. -- Team Honda Muscle Milk's Ashley Fiolek of St. Augustine, Fla., overcame a five-point deficit Saturday to claim her fourth Women's Motocross Championship title in five years.
Italian rider Chiara Fontanesi dominated the event, sweeping the motos on her Yamaha/Monster Energy machine. Fiolek was second in the first moto and third in the second but surpassed Jessica Patterson who couldn't finish the race.
Fiolek's Finale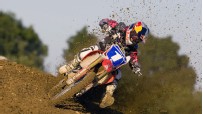 WIDTH="203" HEIGHT="114" BORDER="0" ALT="">
Ashley Fiolek left WMX on top. Here's a look back. Gallery

Fiolek has said this will be her final season racing WMX. She has not revealed her future plans.
In the men's races, Ryan Dungey raced to his 10th straight AMA Pro Motocross victory, sweeping the 450 Class motos in the season finale at Lake Elsinore Motorsports Park.
The Red Bull KTM rider from Belle Plaine, Minn., wrapped up his second season title three weeks ago. Dungey, also the 2010 season champion, has 24 victories in 36 career starts in the premier division.
"It feels great," Dungey said. "I've said it a lot, but (the team) had a lot to figure out. I felt like we made improvements at the middle of the season and to keep winning since round three is awesome to finish off on a strong note like this. I've had a lot of fun his season. All the success we've had is because of the effort of everyone at KTM."
Blake Baggett, the Monster Energy/Pro Circuit/Kawasaki star from Grand Terrace, Calif., raced to his fifth 250 Class victory of the season to win his first career professional title.
He won the first moto and finished second in the second.
"I came out swinging today," Baggett said. "I knew I would either go to front, or it would all go down the drain."
AMA Pro Motocross, Lake Elsinore Motorsports Park, Lake Elsinore, Calif., Sept. 8, 2012: 450 Class
AMA Pro Motocross, Lake Elsinore Motorsports Park, Lake Elsinore, Calif., Sept. 8, 2012: 250 Class
AMA Pro Motocross, Lake Elsinore Motorsports Park, Lake Elsinore, Calif., Sept. 8, 2012: WMX