French rider Rémi Bizouard introduced freestyle motocross competition to Chinese audiences over the weekend, doubling up with back-to-back wins on Saturday and Sunday as the FIM Freestyle MX World Championship series made its Chinese debut at the Guangzhou International Sports Arena.
FMX Debuts in China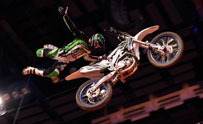 WIDTH="203" HEIGHT="114" BORDER="0" ALT="">

Rémi Bizouard won the 2012 FIM World Championship in Guangzhou, China. Gallery

The competitions, billed as the first-ever FMX events in China, were the first events in a new multi-year partnership between the International Freestyle Motocross Federation (IFMXF) Night of the Jumps World Tour and the Chinese Motorsport Federation.
Bizouard -- the 2008 and 2009 FIM world champion and the current overall leader in the 2012 FIM series -- qualified in the top spot for Saturday's competition, then beat out Spanish rider Maikel Melero and Czech rider Libor Podmol ( the 2010 FIM world champion) in finals for Round 8 of the 2012 FIM Freestyle MX World Championship. Australian rider Josh Sheehan won the Best Whip contest on Saturday, and Italian rider Massino Bianconcini won the Highest Air event, clearing the bar at 8.9 meters.
Sheehan won Sunday's qualifiers, but Bizouard was back on top in finals for Round 9, again beating out Melero and Podmol for the top spot. He now has a commanding lead in the overall ranking, with 172 total points, ahead of Podmol (154) and French rider Brice Izzo (121). Chilean rider Javier Villegas, the defending 2011 FIM world champion, has been missing in action for much of this year's series due to conflicts with other events; he did not compete in this weekend's events due to injury, according to IFMXF promoters.
The 2012 FIM Freestyle MX World Championship continues next week on Sept. 22 with Round 10 in Barcelona, Spain and on Oct. 6 with Round 11 in Cologne, Germany.
FIM Freestyle MX World Championship Round 8, Guangzhou, China
FIM Freestyle MX World Championship Round 9, Guangzhou, China