About the event
Alex Schlopy Q&A
Slopestyle
HalfpipePhoto Gallery
Alex Schlopy, who won Winter X 15 Big Air last Saturday, will be adding another piece of hardware to his collection this week. Schlopy got gold at the slopestyle FIS Freestyle World Championships Thursday in his hometown of Park City, Utah, beating out Winter X 15 Slopestyle champion Sammy Carlson by only fractions of a point. Russ Henshaw found a place at the podium once again, taking bronze. This is the first year the FIS World Championships has included Slopestyle, seen as a sign indicating Slope's potential for Olympic inclusion in 2014.
"Winning gold in my hometown is the best thing I could ask for," Schlopy said.
Schlopy's first run only scored him a 27.5, making his second run crucial for the win. He pulled a leftside 900, a switch 1260 and a double cork 1260, scoring him a 41.80.
FIS Freestyle World Championships
onClick="window.open('http://www.espn.com/action/photos/gallery/_/id/6095658/fis-freestyle-world-championships','Popup','width=990,height=750,scrollbars=no,noresize'); return false;">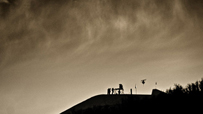 WIDTH="203" HEIGHT="114" BORDER="0" ALT="">Check out photos by Erik Seo from this week's FIS Slopestyle and Superpipe.
Coming off his Winter X Slopestyle win, Carlson said he didn't go as big as he did last week in Aspen, but he's excited for silver and happy to see Schlopy in first. "I'm really pumped for Alex," said Carlson. "I've known him since he was 11. I knew one day he'd be a really good skier. Now, it's great to watch him come up and slay it."
Carlson and Henshaw's second run, nearly identical in the end, had both athletes throwing switch double rodeo 9s and leftside double cork 1080s. Carlson's rail section during the run solidified his silver over Henshaw.
Australia's Anna Segal dominated the women's Slopestyle, throwing down two of the highest scoring runs in the competition. She was tailed by Winter X Slopestyle champ Kaya Turski, who placed second, and Winter X 15 Slopestyle silver medalist Keri Herman, who took third.
Segal's first run in the finals got her the gold. Hitting the last two big jumps of the course with a 7 mute and a flat 3 with a critical landed her a winning score of 43.40. Coming off a torn MCL and broken ankle last season, Segal says this was a major comeback. "A whole lot of things have happened to me in the past year," Segal said. "I've really struggled to get my skiing back to where it needs to be, but this was a huge confidence booster."
Turski ran a clean and tight rails section, guaranteeing her second with a score of 41.70. Herman's leftside 360 to a right cork 5 switch landing to a switch cork 7 got her the bronze.
No matter who placed today, the FIS Freestyle World Championships signify one thing to all of these young hopefuls: a shot at being a future Olympian.
"Freeskiing is the future of our generation," Segal said. "In order to attract youth to the Olympics, we need slopestyle and halfpipe. It's a sport I truly love, and it'd be amazing to see it in 2014. It'd be a dream come true."
Stay tuned for a Superpipe finals recap on Saturday.
Women's Slopestyle Final
Men's Slopestyle Final