About the event
Alex Schlopy Q&A
Slopestyle
HalfpipePhoto Gallery
The weather was downright miserable for a halfpipe competition but with the title of World Champion on the line, competitors made the best of it. Blistering cross winds and multiple forms of precipitation were the themes of the day, but it didn't seem to affect Canadians Roz Groenewoud and Mike Riddle who both walked away World Champions.
FIS Freestyle World Championships
onClick="window.open('http://www.espn.com/action/photos/gallery/_/id/6095658/fis-freestyle-world-championships','Popup','width=990,height=750,scrollbars=no,noresize'); return false;">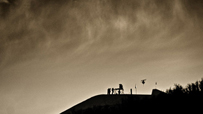 WIDTH="203" HEIGHT="114" BORDER="0" ALT="">Check out photos by Erik Seo from this week's FIS Slopestyle and Superpipe.
Roz G. put together a 43.90 point first run, which was good enough to win, but she raised the bar on her second run, which she led off with a massive mute to a solid right 900 to left 540 to right 540 to left 360 and capped with a switch right 540. Jen Hudak put down a solid second run score of 42.10 to take home silver for the United States ahead of Canadian Keltie Hansen whose 38.80 score took the bronze.
"The last time I competed in this pipe I got a concussion," said Groenewoud -- known to many as Roz G. "I was nervous coming in. It feels so good to put away my fears and win."
The guys tried to ignore the gusting wind as best they could, but Simon Dumont was blown almost to the flat bottom in his second run. Mike Riddle put down a stylish and technical first run that stood strong though the variable weather conditions. Riddle laid down a gigantic double cork 12 to right 900 to pipe double 900 to alley-oop 720 to switch 7 to edge out Winter X SuperPipe champion Kevin Rolland for the win. Rolland put down a double 900 mute to flat 360 to switch 900 to switch right 720 to double 1260 mute in his second run. Simon Dumont rounded out the men's podium securing a bronze medal for the United States.
"We all battled some crazy conditions today and made the best of it. This is an exciting time for our sport and I couldn't be happier to win," said Riddle.
Women's Halfpipe Final
Men's Halfpipe Final