PreviewQualifiers
Finals
Ryan Hawks, R.I.P.
Kirkwood FWT Gallery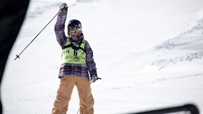 WIDTH="203" HEIGHT="114" BORDER="0" ALT="">
Check out photos from the Freeskiing World Tour in Kirkwood. Gallery

Kirkwood, Calif., local Josh Daiek had never won a freeskiing contest before, despite entering over a dozen of them. But on Monday at the final day of the North American Freeskiing Championships, Daiek maintained his first-place position from Sunday, winning his first-ever contest on his home mountain and beating a stacked field of some of the world's best freeskiers.
"I've never won before and to do it on my home mountain feels just unbelievable," Daiek said after his high-speed run, which included multiple airs on the looker's right side of Kirkwood's Cirque, a permanently closed venue. His friends swarmed him in the finish area and firecrackers were set off to celebrate the local's victory.
The exciting win came a day before the sad news broke that competitor Ryan Hawks, 25, died Tuesday after being flown to a Reno hospital on Sunday with injuries sustained in a crash during the event. The loss is a huge blow to the tight-knit freeskiing community, including his close friends and fellow Freeskiing World Tour competitors Lars and Silas Chickering Ayers and Hawks' girlfriend, overall tour leader Angel Collinson. "[Ryan] was loved by everyone he met," Lars Chickering Ayers said. The first day of the contest saw other injuries as well, including a broken pelvis for Swedish pro skier Marja Persson.
In Monday's finals, Squaw Valley local Kevin O'Meara finished in second place, up from his fifth-place standing after Day 1, and French rally car racer and pro freeskier Guerlain Chicherit, who took the last few years off from competition, finished in third.
In the women's field, the top three come as no surprise, with the same ranking from Day 1 remaining after the finals: Snowbird's Angel Collinson, New Zealand's Janina Kuzma and Colorado's Rebecca Selig in first, second and third, respectively. Kuzma's final-day run scored just higher than Collinson's, but it wasn't enough to unseat Collinson. "I just wanted to ski a strong, fast line," Collinson said.
This event marks the first time the Nissan Freeride World Tour and the Subaru Freeskiing World Tour have combined, and athletes noted the elevated sense of competition as a result of the collaboration. "Having the two tours together in one venue just increases the hunger level," said Squaw Valley's JT Holmes, who crashed on Day 1 and finished 38th. "People here now have the opportunity to beat every notable contest freeskier in the world. It's the ultimate proving grounds."
And what a proving ground it was. Perhaps what is most notable about this contest is the names that don't appear near the top of the results sheet. With some of the best big-mountain freeskiers in the world converging, one might have assumed that Europeans like Henrik Windstedt, who was ranked first in the Freeride World Tour going into Kirkwood, or Aurelian Ducroz, the 2009 overall Freeride World champion, would have at least been in the top 10. But Windstedt and Ducroz, as well as some other heavyweights, failed to make it to Day 2 of the contest. Instead, the top of the men's field was filled with some surprising names -- two Tahoe locals and a French skier who hadn't competed in three years.
Men's Finals Results
Women's Finals Results