Guerlain Chicherit has an entire zone at the ski area of Tignes, France, named after him. A slow triple chair with a warning sign ("Beware," it says) at the bottom brings you to steep cliffs and narrow chutes with no easy way down. This is the kind of terrain that Chicherit, a four-time freeskiing world champion who grew up in Tignes, is most comfortable on.
Guerlain Chicherit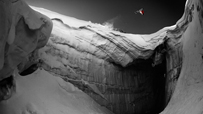 WIDTH="203" HEIGHT="114" BORDER="0" ALT="">
Check out photos of French rally car racer and pro skier Guerlain Chicherit. Gallery

From 2003 to 2005, Chicherit wasn't allowed to ski on the zone named after him at his home resort. He wasn't allowed to ski at all. In order to pursue a professional rally-car racing career in France, he signed a contract saying he would temporarily give up skiing to avoid the risk of injury. "It was hard to give up skiing," Chicherit says, "but it was my dream to be rally-car driver, so I did what I had to do."
Sitting on a box in the kid's terrain park at Tignes last week, Chicherit talked about the long journey he's taken to reach this point in his career. He's wearing a flat-brim hat with a Monster logo, a puffy jacket and jeans. He seems to know everyone who walks by, from the kid monitoring the terrain park to the old man transporting goods in a snowmobile. He is, after all, one of Tignes' hometown heroes.
Chicherit's ski résumé is too long and exhaustive to repeat here, but know this: For years, Chicherit was winning big-mountain freeskiing competitions -- including Alaska's World Extreme Skiing Championships, the Freeskiing World Tour's finale at Snowbird, Utah, and other big competitions around Europe. In many circles, he was considered one of the best, akin in talent to American standouts like Shane McConkey and Kent Kreitler. But then, suddenly, he quit skiing all together to focus on his rally career.
He's had great success in rally, winning several stages of Dakar, and by 2006 he was able to amend his contract to let him ski again. He won a few more ski contests in 2006 and 2007, and then he stopped competing again. Now, at age 32, Chicherit is considering his third re-entry into competitive big-mountain freeskiing. In early February, when a friend invited him to Kirkwood, Calif., to compete in the joint Freeskiing World Tour and Freeride World Tour contest, he booked a ticket. "I decided to go to be with my friends," he says. "But of course, I wanted to win. I never say, 'I am the best. I am going to win.' That's not like me. But I always say that I want to win."
He didn't win at Kirkwood, but he got third -- not bad for a guy who hasn't entered a comp in four years and who was up against a majority of today's best big-mountain freeskiers. "It definitely confirmed his talent and his experience for him to come back after a few years of not competing and podium at Kirkwood," says Jim Jack, longtime head judge for the Freeskiing World Tour. "Guerlain obviously loves skiing -- it's his key passion, between car racing and everything else he does. He's a very solid, fluid skier and he doesn't make very many mistakes."
After his success at Kirkwood, he accepted an invitation to compete in the newly resurrected World Extreme Skiing Championships, a contest that hasn't taken place in nearly 10 years but is tentatively scheduled, conditions permitting, to return to Valdez, Alaska, next week. "I haven't been skiing so much in three or four years now," Chicherit admits, "but my motivation is really high and I think I can do well [in Valdez]."
After 15 years of skiing for Dynastar, Chicherit left the company in 2008 and founded an online ski company called Coreupt, which is one of the fastest-growing freeski brands in Europe, with names like Candide Thovex, Justin Dorey, Ben Valentin and, of course, Chicherit, on its athlete roster.
"Coreupt made me an offer, and at first I was hesitant because they were a new brand," says Justin Dorey, who switched from Dynastar to Coreupt in 2009. "I didn't know much about Guerlain, but people said he was a good guy and that he was a legend. They based the whole company around the athletes, so I have a lot of input and I got to design my own pro-model ski, which has always been a dream of mine."
Chicherit founded his ski company with financial assistance from the owner of a French yogurt and fruit juice company, a man who trusted Chicherit's vision of an alternative, boutique freeski brand. "I met him in a bar one night at a rally party," Chicherit says of meeting his benefactor. "He wanted to help out with my rally career, and later, when I decided to start Coreupt, he offered to help again."
Coreupt has had some unsteady moments, for sure -- it lost athletes TJ Schiller and Colby West in the past year due to financial instability -- but Chicherit still seems hopeful, and he has plans to expand to the U.S. market and beyond in the coming years.
For a guy who grew up in a small French town with a single mother who made a living cleaning hotel rooms, Chicherit knows he's fortunate to be where he is he now -- a pro skier, a rally-car driver and a business owner. "I guess you could say I'm very lucky," he says.