AK Waiting Game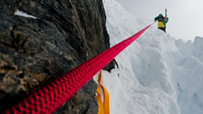 WIDTH="203" HEIGHT="114" BORDER="0" ALT="">
Check out photos from down days at WESC. Gallery

Anyone who has ever made the journey to Alaska to only stare into a white wall of weather for days on end knows that AK is a waiting game. After a decade of dormancy, there were plans to resurrect the World Extreme Skiing Championships this year, now apparently called the World Freeriding Championships. Organizers scheduled a nine-day weather window -- from March 25 to April 3 -- with the AK waiting game in mind. So far, the contest has yet to take place. Tentative plans now are to combine the ski contest with the snowboard-specific King of the Hill big-mountain competition, taking place this week at Tailgate Alaska.
Alaska has had the worst drought in 30 years and with no new snow expected for the first week of WESC's scheduled window, the athlete meeting was pushed until Thursday night almost immediately after the event's opening party. This left a group of freeskiing's finest to fend for themselves and decide how best to kill a week in Valdez, Alaska.
"We all knew there was a possibility that we'd have to wait it out and I was excited to do our best to get out and explore in the meantime," said Salt Lake City-based competitor Vanessa Aadland.
For the last week, everyone has had their own approach to killing time in the clouds. Some athletes made full use of the continental breakfasts and free internet at Valdez's Mountain Sky Hotel. Some jumped into an RV and joined the Tailgate Alaska party, and most did their best to find a way to ski.
On Thursday night, March 31, a decision was made to try to run the competition on Saturday morning. Though the weather looked ominous, a morning snow safety meeting was held Saturday and athletes, media, safety crew, and event organizers jumped on snow machines and throttled it up to the venue, Bro Bowl.
Everyone scrambled to their respective positions but unfortunately the weather had already made its move. The first six competitors sat perched and waiting while the safety crew dug an elaborate snow fortress to protect everyone from the wind. After several hours of biding time and staring into the white void the call was made to postpone the contest. Although efforts were made to hold the contest Sunday, it was yet again called off due to weather.
"You have to come into these situations with a good attitude and be ready to be flexible," said competitor Colby Albino of the day. "We hung out on top of a mountain and laughed the whole time up there."
Stay tuned to ESPN Freeskiing for more updates from Valdez.