Kumiyama in Pictures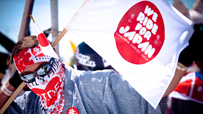 WIDTH="203" HEIGHT="114" BORDER="0" ALT="">
Check out photos from this Japanese-inspired contest in France. Gallery

The Japanese ski scene has been hit hard since the earthquake struck in March. All of the resorts throughout Fukushima, Gunma and Miyagi were forced to close and every planned event, competition and photo shoot was cancelled throughout the country for the rest of the season.
Fast forward a few months to the first weekend in July and Japan is represented at Kumiyama event in France's Les Deux Alpes. Now in its fourth year, Kumiyama is a three-day, Japanese-themed team event combining skiing, snowboarding and photography on the glacier.
On Saturday, eight teams of three took part in a kamikaze-style knockout competition with the winners of each round progressing to the next. Team Downdays -- made up of Markus Eder, Nicolas Vuignier and Gaute Silseth -- emerged victorious. As with any event that has three people jumping at the same time, the trick list was extensive: cork 5 tail, double cork 10 mute and Japan Kangaroo followed by switch 5 Japan, cork 7 tail and switch cork 5.
"We finished skiing today with the feeling that we'd just had a great day skiing without the feeling of being in a comp, that's what makes this event so cool," said Vuignier.
Young Bastards team -- Lauri Kivari, Anti Ollila and Jesper Tjader -- took second with a double cork 12, double cork 12 tail and 5 tail on the first jump, followed by a switch 5, switch 7 and flat 3 Japan on the second.
The Hooligans team, consisting of JF Houle, Adam Delorme and Simon Ericson, put up a good fight and placed third.
Riding for Japan has been a theme at Kumiyama for the last four years, but it become much more apparent this year, given the earthquake and tsunami. Organizer Gaylord Pedretti was asked before the event whether it should be cancelled because of the earthquake. "Absolutely not," he said. "Because of this March we need to focus efforts on Japan even more to show the strong face of the country."