This weekend Indiana native and Ohio Dreams Camp coach Nick Goepper became the second relatively unknown amateur to win the Dumont Cup. Goepper beat out a field of 81 competitors, including Simon Dumont himself.
Dumont Cup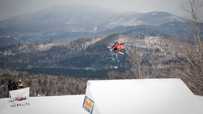 WIDTH="203" HEIGHT="114" BORDER="0" ALT="">
High winds couldn't blow away the fun at Sunday River this weekend. Gallery

An extended course offered skiers three rail features and three jumps, including a 80-footer situated right at the judge's platform. Goepper staked his claim early with an unnatural cork 900 tail grab, switch double rodeo 900 Japan and a double cork 1080 mute on his first run, earning himself a 92.4.
For Goepper, who qualified for the finals in fourth place, consistency was key. "I'm really stoked," he said. "I skied my best and the weather held a little bit on my run." After locking in first place, he maintained his standing with a near identical second run.
Gus Kenworthy took second place with 90 points, followed by Jacob Wester in third with 87.6. All three managed to stomp big double flips, even as other contestants scaled back on technical tricks and struggled to complete runs in the adverse weather conditions.
Facing erratic, swirling headwinds and tailwinds, often in the same run, many skiers overshot the landings on the first two jumps only to case the final one. The resulting carnage prompted the judges and athletes to make the final run optional.
Despite the deteriorating conditions, the relaxed vibe of Friday's Open Amateur Jam prevailed throughout the contest. Ams and pros hung out at a barbecue between the semis and finals, and cheered each other on from the top of the quarter pipe at the end of the course. As in other years, Simon and his sponsors brought some serious swag, and groms followed him everywhere like a pack of hungry gulls.
No one left the awards ceremony empty handed, least of all Nick Goepper, who took home $12,000 in cash. Aside from a third-place finish at the Killington Dew Tour in January, the Dumont Cup marks the first major win of his career. Whether he'll follow the lead of last year's winner, Alex Schlopy, and go from promising up-and-comer to standout pro in a single year remains to be seen.
Schlopy himself was slated to defend his title this year, but withdrew from the finals due to illness. Schlopy's post-Dumont Cup victory streak included a Winter X Big Air gold and wins at a Dew Tour event and the FIS Freestyle World Championships -- Goepper has some pretty big shoes to fill.
Looking back on the third annual Dumont Cup at the end of the day, Simon Dumont had this to say: "I think the contest over all went pretty well. One thing we can't control is the weather. The wind really picked up and made things kind of hard, but the athletes came together and we skied through it."
If Dumont keeps on bringing bigger and better courses and giving ams the chance to shine, the talent pool at this event is only going to get deeper in years to come.
2011 Dumont Cup: Final Results