The Chickering-Ayers brothers in Pictures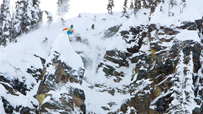 WIDTH="203" HEIGHT="114" BORDER="0" ALT="">
Check out photos of Lars and Silas competing last winter. Gallery

When Lars and Silas Chickering-Ayers finished first and third, respectively, at last season's U.S. Extreme Freeskiing Championships in Crested Butte, Colo., it was the only time in the Freeskiing World Tour's 14-year history that a pair of brothers shared a podium.
Lars, 24, finished the tour in second place overall, winning two of the six events. Silas, who turned 19 in May, followed his breakthrough Colorado performance with a fifth-place result at the Snowbird, Utah, tour finale, winning the Sickbird award.
The brothers' peers consider them threats to win any event they enter, and they'll continue that pursuit at the Red Bull Powder Disorder in Las Leñas, Argentina, in the two-day contest that starts Wednesday -- the first stop on the 2011-2012 Subaru Freeskiing World Tour. The Las Leñas field will also feature reigning tour champs Drew Tabke and Angel Collinson; Guerlain Chicherit; and Chopo Diaz (who won at Las Leñas last year).
Together, the Chickering-Ayers brothers' promise is surpassed only by the pride they take in honoring their humble Vermont roots. In a phone interview from the family's East Montpelier, Vt., home the day before they flew to South America, they were asked about their ambitions. Lars, in response to a question of whether winning the tour is a goal, said: "Not really. I want to try and have fun. We'll see." Silas then got on the phone. "I like to do well, but I'm more into traveling," he said.
Their quiet, deliberate demeanor has long been a trademark. As kids, "they didn't say a word. They just skied," recalled FWT veteran Dylan Crossman, who coached the brothers at Mad River Glen, where their father is a longtime ski patrolman. In 2005, Crossman encouraged Lars to follow him out West and ski some bigger terrain (and more powder). Based in Utah, Lars joined Crossman on a trip to Crested Butte and entered the '06 Extremes as an 18-year-old unknown. He skied so well that he ranked No. 1 in the men's field going into the final, before a fall took him out of contention. It was the only event he entered that year.
After finally winning the same competition this past February, Lars insisted his approach hadn't changed since his debut in 2006. "I've always had a first-or-last mentality," he said then. But lest that give someone the wrong idea, he is also a devoted technician who studies tiny nuances in his turns. "I like to concentrate on bending the ski and pay attention to how that's working with the snow," said Lars, who stands just 5-foot-6 but uses 191-centimeter skis. "It's more of a feeling -- the difference between carving and just sliding."
Silas, a two-time all-state soccer player in high school, never missed a lesson from his older brother, and still doesn't. They are members of a collective known as Green Mountain Freeride (the late Ryan Hawks was one of their closest friends) and follow the tour around North America in a souped-up 1993 Ford van called "The General." They critique each other's technique, push each other to try new tricks and ski powder as often as possible.
"I've learned everything from Lars," Silas said. "I've pretty much followed him since I started skiing. I wouldn't want to be out West and competing with anyone but him."