Level 1 premiere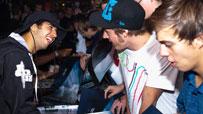 WIDTH="203" HEIGHT="114" BORDER="0" ALT="">
Check out photos from the Denver premiere of "After Dark." Gallery

This weekend officially kicked off the premiere season for this year's ski movies. On Friday night, Level 1's "After Dark" premiered in Denver, Colo., and Seattle, Washington's King Cat Theater hosted a double-feature premiere of Seth Morrison's "An Ordinary Skier" and Poor Boyz Productions' "The Grand Bizarre." Here's a play-by-play of the Seattle premiere and a behind-the-scenes photo gallery of the Denver premiere.
7:04 p.m.: Hundreds of teenagers and free Red Bull are a bad combination. The under-21 line to get in the theater is getting rowdy.
7:22 p.m.: The woman in front of me in line has four-inch heels and a teased up-do. Am I dressed for this? This woman is putting my hair to shame.
7:32 p.m.: The first person I see at the bar is Nathan Wallace. He is a force of nature. Like a typhoon. He declares to anybody that will listen that the movie is probably going to suck.
7:34 p.m.: Seth Morrison is to my immediate left. His hair is beautiful.
7:35 p.m.: Kye Petersen is behind me. His hair is beautiful, too.
8:14 p.m.: I find my seat in a packed house. Simon Dumont is in front of me. The temperature inside the theater is probably the hottest recorded temp in Seattle history. One guy has his shirt off.
8:22 p.m.: Before "An Ordinary Skier" director Constantine 'C.P' Papanicolaou starts his film, he introduces the stars of the movie. Up first is Sean Pettit, whose skiing he describes as like watching magic. Agreed. He then calls up Petersen, J.P Auclair, 'American' Dave Rosenbarger, Wallace and Morrison. These guys are like the cast of the Outsiders.
8:26 p.m.: My biggest question going in: How is Seth Morrison an ordinary skier? And if he is, what does that make me? (Deep sigh.)
8:29 p.m.: The opening montage is an incredible sample of Morrison's hairstyles from the 90s. This diary is actually going to be about hair.
8:52 p.m.: Learned a new vocabulary word: Cham-o-fied. I think it means skiing gnarly lines for breakfast and drinking red wine and smoking cigarettes for lunch.
9:42 p.m.: "You get your demons out of your head by doing sports where you are living in the moment," says Morrison. I like that.
9:50 p.m.: The poem written and read by a Rettalack cat driver at the end of the credits is worth sticking around for. Maybe you are just an ordinary skier, Seth Morrison.
9:51 p.m.: And that's a wrap for the first film. Wallace was wrong. It did not suck. Not a ton of ski footage in that film, but an incredibly introspective and though-provoking movie. Seth Morrison is a courageous man -- for skiing in Chamonix with Wallace, and for allowing this kind of insight into his life. I need some fresh air.
10:14 p.m.: The circus terrifies me. Hoping "The Grand Bizarre" isn't too scary.
10:20 p.m.: Bobby Brown's triple. Whoa.
10:26 p.m.: I had no idea how well-rounded Dane Tudor was. Huge lines, huge airs both in the park and out.
10:48 p.m.: LJ Stenio skis an absurd Spokane rail without snow. Definitely the trickiest I've ever seen. He says it's the hardest rail he's ever done, then he goes for a Krispy Kreme.
11:06 p.m.: The crowd goes crazy for the Leigh Powis segment. Does that guy really have a face tattoo?
11:12 p.m.: Riley Leboe is destroying ridiculously huge lines. And mud puddles.
11:17 p.m.: Simon Dumont skiing his cube pipe looks totally unreal. I can't believe the time and money put into that project. Wow.
11:28 p.m.: What a night. Not only did I witness two incredible ski premieres, but I lost 10 pounds from sweat while doing it. It's time for some burgers and hand-dipped shakes at Dick's Drive-In.