Candide Thovex Gallery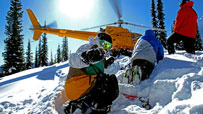 WIDTH="203" HEIGHT="114" BORDER="0" ALT="">
The making of Thovex's new movie with Quiksilver. Gallery

Last January, Candide Thovex announced that he would be working on a two-year film project. Like Travis Rice's films 'That's It. That's All' and 'The Art of Flight,' Quiksilver is footing a large part of the bill for Thovex's yet-to-be-named film. With the mega-brand's backing and on the coattails of Thovex's insanely good webisodes from years past, Candide Kamera, Thovex fans are frothing at the promise of seeing what the Frenchman puts together with this film. We caught up with Thovex recently to check in at the film project's halfway mark.
With a year of filming in the bag, how do you feel about the project?
It is finally happening and I'm so stoked about it. I've been waiting for this for a long time. We were filming all last winter and we're really happy with the footage. I can't wait to continue filming this season.
Where did you get the inspiration and idea for this film?
Candide Kamera has been the starting point. After I broke my back in 2007, doctors were telling me that I would never be able to ski or jump. They placed screws in my back and it looked like a real issue to them. The recovery took a long time, but I started [traveling] around Europe and filming with my good friend Simon Favier as soon as I felt better -- it was just the two of us. We really tried to do something different and add a cinematic style to it.
Did you go into last year with a specific plan and did things go as planned?
It is so difficult to plan a ski movie project because you just chase the good snow. We were supposed to start filming in Europe, as I really know the places, but we had no luck with the conditions. It was one of the worst winters here in a long time; there wasn't any pow. So, we decided to travel to British Colombia last February. We were supposed to stay two weeks but finally left after three months.
What does the second year of this project look like?
Once again, it all depends on the conditions but I really want to film in some locations around Europe and show how good the terrain can be here. There are some really unusual and incredible places over here that no one has explored and will look awesome in the film.
Has your competitive skiing taken a backseat?
After winning the FWT title [and Red Bull Linecatcher], Quiksilver came to me and their vision was that after all I had achieved between the freestyle and freeride contests, it was time to take a break on the competitive side and to go for a big movie. So, I am going to focus and put all of my energy into making this movie. I had some great times doing competitions, but I have always been more into making movies because making movies is more about art and expressing yourself in a creative way.
Do you have any desire to have another go at Winter X Games?
Why not? I would love to compete in Winter X Games again. I definitely want to come back to contests after this movie -- freeride or freestyle. We'll see ...
Lastly, you've skied on Coreupt for years now, but rumor is you'll be sporting a different ski this year. Is that true?
There have been a lot of changes in the last 12 months and now I am looking to the future. I have exciting new projects and things happening in the coming weeks and months. You'll have to wait and see what will be on my feet, but in the meantime I wish Coreupt the best for the future and thank them for the support I've had from them with my time as a team rider.