Skiing or school? That is the question.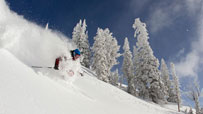 WIDTH="203" HEIGHT="114" BORDER="0" ALT="">
The pros weigh in on the debate. Gallery

Much has been written on the topic of where one can go to college close to good skiing. But a largely ignored topic is, as an aspiring pro skier, should you go to college?
Plenty of pro skiers have made a career for themselves without graduating from college: Sean Pettit, Tanner Hall, Kaya Turski and others haven't started or finished their degrees. And others still have earned a degree before or while pursuing a ski career: Seth Morrison went to Western State College of Colorado, Keri Herman and Todd Ligare went to the University of Denver, Grete Eliassen, Tom Wallisch and Rachael Burks attended the University of Utah.
"There seems to be a happy mix between pros who attend college while skiing and those who choose to wait. Athletes that are at the very top level during their high school years tend to take time off to ski. Some examples are Simon Dumont, Bobby Brown and Justin Dorey," says Brian Schroy, content manager at the Association of Freeskiing Professionals. "Skiers in this bracket feel they have a healthy income, they are progressing as much as possible while they are young and they can always go back to school."
On the one hand, being in school might hinder the filming, traveling and contest schedules that are imperative for developing a ski career.
"It's never easy to detour someone away from school, however, I think it's super important for aspiring skiers to evaluate what their future holds," says Chris Benchetler, who took one art class at community college in Mammoth Lakes, Calif., before becoming a pro skier. "I think a lot of kids directly out of high school are still slightly immature and not sure what they want in life, having no clue what to study."
Undoubtedly, taking time off allows for self-reflection and a chance to determine what really drives oneself, which could set up a more purpose-driven college experience -- if you ever actually enroll.
Then there are the physical aspects of what an 18-year-old body can handle versus a 22-year-old body. "There is the aspect of having your body in prime health out of high school," says Benchetler. "If you want to ski park, your window of opportunity is fairly limited, because your body can only take so much abuse."
On the other hand, college provides a structured transition to adulthood, an opportunity to pursue topics not available in high school and a level of professionalism that can later benefit a full-fledged ski career (a marketing class, for example, sure can be useful to pro athletes).
And there's the argument for college serving as a vehicle for not only mental development, but social development as well. "I was just kind of a late bloomer in general," says Ingrid Backstrom, who attended Whitman College in Washington. Backstrom ski raced while in college and became a pro big-mountain skier after graduating. "I would have been too immature straight out of high school to pursue skiing in any sort of meaningful way. There were a lot of good lessons, a lot of mistakes that I made in college that have really helped me now and college was a relatively controlled environment in which to figure some of that stuff out."
Adds the AFP's Brian Schroy, "There are easy ways to stay in school and be a professional skier. Most of these pros find the best of both worlds by going to school close to the mountains, taking off winters and resuming school over the summer, or even scheduling all their classes on Tuesday/Thursdays."
Plus, as relaxed as the ski industry may seem, a little professionalism never hurts. "(College) was a really valuable time because I met some amazing people, learned a lot about life as well as some skills that have helped as a skier -- communication, writing, resumes -- and now I have a degree and it gives me more options for whatever is next," says Backstrom.
In the end, perhaps it just comes down to the individual. A lot of 22-year-olds still throw down extremely hard in the park, and a lot of inexperienced 18-year-olds have had wildly successful ski careers. The point is, rather, to consider each side of the argument and, despite the cocked eyebrows of parents everywhere, seriously explore the options that are out there. After all, "(Insert: skiing/college) will always be there."
[Griffin Post attended Bowdoin College in Maine and then transferred to the University of Denver, where he earned a degree in finance and marketing and an MBA before becoming a pro skier.]