Late Night Action: Kristi Leskinen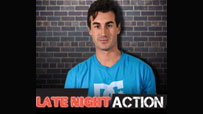 WIDTH="203" HEIGHT="114" BORDER="0" ALT="">
Longtime friend of Sarah Burke, Kristi Leskinen talks with Brandon Graham. Podcast

Following a crash in the halfpipe at Park City, Utah, on Tuesday, top freeskier Sarah Burke underwent surgery Wednesday to repair a tear to her vertebral artery, which is located in the neck and supplies blood to the brain. Burke remains in critical condition at the University of Utah hospital in Salt Lake City.
According to a news release Thursday, the tear resulted from an intracranial hemorrhage suffered during the time of her fall. Dr. William T. Couldwell, professor and chair of neurosurgery at the University of Utah, performed the operation to repair the artery.
"With injuries of this type, we need to observe the course of her brain function before making definitive pronouncements about Sarah's prognosis for recovery," Couldwell said. "Our neuro critical care team will be monitoring her condition and response continuously over the coming hours and days."
In a press conference Wednesday, Robert Foxford, doctor for the Canadian freestyle team, said that Burke was in an induced coma. "Induction of a coma is routine with severe head injuries. Every second is monitored with precision. It is to ensure there is no movement," Foxford said.
An outpouring of support for Burke -- a pioneer in women's freeskiing and a four-time Winter X Games gold medalist -- continues to flow in from fellow athletes, friends and fans. "I hope that Sarah comes through this really strong," said halfpipe skier Simon Dumont. "I know that if anybody can, it's Sarah Burke." Echoed Tanner Hall on Twitter, "Sending all the positive vibes to Sarah Burke right now."
Slopestyle skier Kaya Turski wrote on Wednesday, "Just took a run through the pipe for you Sarah."
Canadian Halfpipe coach Trennon Paynter wrote on Twitter, "Even while resting, [Sarah's] inner strength is clearly visible. Overcoming challenges is what she has always done best."