Thousands of people gathered at the base of Canada's Whistler Mountain Tuesday night to celebrate the life of freeskiing pioneer Sarah Burke, who passed away on Jan. 19. They wore purple ribbons and SJB buttons, held candles and were welcomed by a photograph of Burke giving a ski lesson to a young female skier. Next to the photo were these words:
A light will never go out if it lights a million more.
Celebrate Sarah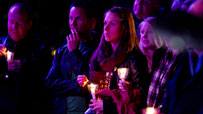 WIDTH="203" HEIGHT="114" BORDER="0" ALT="">
Photos from the tribute ceremony for Sarah Burke in Whistler, BC. Gallery

After reading those words, Luke VanValin, the evening's emcee, a professional skier and a close friend to Sarah and her husband, Rory Bushfield, invited Rory to the stage. Rory lit the first candle of the night, to represent Sarah. With that candle, he lit candles held by Sarah's parents, Gord Burke and Jan Phelan. Then, as a photo-and-video tribute played on video screens, those two candles lit every other candle in the square.
"Let's follow Sarah's example," VanValin said. "If we are going to celebrate her, let's take what she valued and live life to the fullest. She impacted millions of people. Let's let her light shine through for a million more."
Tuesday's celebration began with a daytime ceremony for friends and family at the Whistler halfpipe. Hundreds of skiers and snowboarders lined the walls of the pipe, which had been decorated with banners and spray painted with purple hearts and snowflakes. Each person was handed a purple ribbon and a small piece of wood and asked to write a note to Sarah. Just like in the evening ceremony, they each held a candle lit from a single flame.
Sarah's dad began the ceremony by skiing down the center of the pipe carrying two torches -- a lit wooden torch and an unlit Olympic torch from the 2010 Vancouver Games. He met Sarah's mom at the base and together, they lit a fire that burned throughout the ceremony.
At the conclusion of the celebration, everyone gathered and tossed their wooden notes into the fire so their messages could be carried away with the smoke.
Gord also opened Tuesday night's ceremony, this time wearing a green Whistler T-shirt and standing next to a photograph of Sarah signed by hundreds of athletes at this January's Winter X Games. Gord explained that Sarah had bought him this T-shirt 15 years ago on one of their first trips to the resort. At the end of the trip, he said he'd given her $15 and told her to buy something for herself, so she would remember the fun they'd had. She returned after spending all of her money on a green Whistler T-shirt she'd bought for him, instead.
John Smart, director of Momentum Ski Camps, read letters he'd received from former campers who'd been touched by Sarah and announced the formation of a Spirit of Sarah scholarship that will be awarded each year to a girl who embodies her spirit. "It will allow Sarah to be a mentor for us forever," he said.
Elsa Hamel-Robert, one of Sarah's best friends, asked the crowd to memorialize her friend by remembering to live, love, laugh and, most importantly, dance. "Wherever you are tonight, whether it's in your hotel room or out celebrating with us," she said, "Tear up a dance floor." Grete Eliassen, one of Sarah's dear friends and a pro skier known for her penchant for rap music, eulogized Sarah with a funny, touching, anecdote-filled rhyme.
Canadian freeskiing pioneer Mike Douglas, who helped Burke land her first sponsorship as a teenager, talked about his own 4-year-old daughter and shared the lessons he believes Sarah would have taught her someday. "Laugh a lot. Always say thank you. Give more than you take. Do one thing every day that scares you," he said. "And if you can't, then scare someone else."
"

If we are going to celebrate her, let's take what she valued and live life to the fullest. She impacted millions of people. Let's let her light shine through for a million more.

"

-- Luke VanValin
Trennon Paynter, coach of the Canadian halfpipe ski team and one of Sarah and Rory's best friends, talked about her legacy. "When we walk into Sochi for Opening Ceremonies," he said, "Sarah is going to be the one leading us into the stadium."
Sarah's husband, Rory, was the final speaker of the night. Earlier in the day, he'd read a poem he wrote for his wife and Tuesday night, he spoke about the outpouring of love and support he's felt from Sarah's friends and family and from the snow sports community. Hundreds of professional athletes, team managers, coaches and sponsors from around the world flew to Whistler this week to celebrate Sarah's life. "I can feel her spirit tonight," said Rory, whose speech was followed by a performance of "I was here" by Sarah's mom and older sister, Anna.
After their song, VanValin returned to the stage and asked the crowd for one final favor. "Now that you've heard so much about her, this should make sense," he said. "We can't celebrate a woman like Sarah with a moment of silence." So, instead, he counted down the celebration's alternative close: A moment of noise. "Three ... two ... one ..."
Celebrate Sarah.