Behind the Scenes with JOB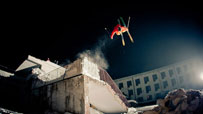 WIDTH="203" HEIGHT="114" BORDER="0" ALT="">
The making of a freeski film project in Europe. Gallery

Leave it to European freeski filmmakers to come up with this unique approach to making a ski movie.
A new concept called Junkies On a Budget (or JOB, for short) gathered five separate film crews from around Europe and had them produce and edit their own segments. Austrian filmmaker Clemens Pruner and art director Jan Schöttler then set about mashing them all together into one unified film called "JOB in Space," for which the trailer dropped on Tuesday.
"After many years of making traditional ski movies, we decided that everything looks the same and feels the same, so we started to create a new concept," JOB's director Nico Zacek told ESPN.com. "We thought that we could get a better outcome if we were looking for people with creative ideas, be it really crazy tech (camera or after effects), good or funny storylines, or creative shooting. We realized that it's easier on filmmakers to make an incredible five-minute segment than it is to make a whole movie."
So they found crews throughout Europe from different scenes (gathering filmmakers from Sweden, France, Germany, and elsewhere) and gave them all the same budget to create a five-minute segment.
Athletes include Kevin Rolland, Xavier Bertoni, Teddy Berr, Phil Meier, Ben Valentin, Thomas Krief, Laurent Favre, and more.
"We are running this project for the first year, but we plan to do this for many years now," Zacek said. "In the future, we want filmmakers from all different scenes -- be it any other action sports, or talented filmers from film schools -- to apply for the project and the budget and get the chance to realize their five-minute vision of the sport of freeskiing. It's an open source system for the most creative ideas out there."
The full movie will premiere this fall and tour to Munich, Stockholm, Helsinki, Annecy and Innsbruck. For those not in Europe, you'll be able to download the film on iTunes starting in October 2012.