Backstage Pass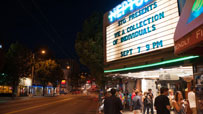 WIDTH="203" HEIGHT="114" BORDER="0" ALT="">
Behind the scenes of the Poor Boyz, Level 1 movie premieres. Gallery

This weekend brought a duo of ski movie premieres, with Poor Boyz Productions debuting "We: A Collection of Individuals" on Friday night in Seattle, Wash., and Level 1 screening "Sunny" on Saturday night in Denver, Colo.
In concordance with what has become a fall tradition, winter warriors of all varieties came out in droves over the weekend and converged upon Seattle's Neptune Theater and a downtown Denver concert hall called City Hall. Following athlete signings and product giveaways, the films played and mesmerized a sea of stoked viewers.
"It's an indescribable feeling to be able to share our film in this type of environment," said Level 1 Director Kyle Decker. "Being able to enjoy this experience alongside my friends who are equally as passionate about what we do is a rewarding thing."
At the Level 1 showing, the film's music was one of the standout features. Parker White described the soundtrack as "a very original take on un-epic music."
Immediately following the films, most of the crowd shifted to the next locations, where the after parties roared deep into the night. People lingered in the streets and the energy felt palpable -- nobody wanted one of the best nights of the year to come to an end.