Welcome to the Himalayas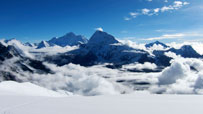 WIDTH="203" HEIGHT="114" BORDER="0" ALT="">
Images from Eric Hjorleifson and crew's ski attempts in Nepal. Gallery

It doesn't happen every autumn, but the Nepalese Himalaya has been rife with freeskiing intrigue and luminaries this fall. Glen Plake, Greg Hill and Eric Hjorleifson have been among the crowd making turns above 20,000 feet, in addition to noted German speed mountaineers Beni Böhm and Basti Haag.
Supplemental oxygen has been forsaken in pursuit of records, with much of the action nearing a climax as of this writing. Plake, climbing with Chamonix-based ski mountaineers Rémy Lécluse and Greg Costa, was hoping to push for the 26,759-foot summit of Manaslu Friday or Saturday, after spending the prior few weeks acclimatizing and dodging storms. The team is seeking to become the first to ski the world's eighth highest peak without oxygen.
Simultaneously, Hill, Haag and Böhm have been moving into position for summit attempts of their own, creating an unexpected race to the top. Hill was at 7,000 meters earlier this week before a blizzard and dangerously hollow snow forced his and Plake's teams back down the mountain to wait for better weather, according to what Lécluse told his sponsor, Dynastar. Hill, Haag and Böhm had originally planned to ski 26,864-foot Cho Oyu in Tibet, the world's sixth tallest peak, but a government-imposed closure sent them to Manaslu instead, along with numerous other displaced climbing teams. Böhm and Haag are trying to ski Manaslu in record speed after turning back in 2007 due to high avalanche danger.
Before any of this began, Hjorleifson joined a much larger, Dynafit-backed expedition to ski 21,247-foot Mera Peak with Hill, Haag, Böhm and 12 others. The team skied off the summit earlier this month and upon his return to Whistler, Hjorleifson detailed the three-week trip -- his first to the Himalaya -- in a phone interview.
"It was spectacular, really. We got as fortunate as possible," he said. "Our gear was late to arrive and it rained at some point every day of the trip. The way the timing worked out, we had exactly one day to make the summit, and the weather cleared just enough for us to do it."
"

I'd love to go back without the big peak objective and just try to ski the gems over there. I saw a lot of potential -- some really cool looking spines that are more my style of freeride skiing.

"

-- Eric Hjorleifson
All 16 members summited, including a 52-year-old Austrian schoolteacher named Silvia. For Hjorleifson, the biggest lesson he brought home was how debilitating high altitude can be.
He'd motored up every peak in Whistler to prepare for the trip, but despite his fitness, his lack of thin-air experience punished him in Nepal. The highest he'd been prior to Mera was about 13,000 feet.
"The last couple hundred meters to the summit, I probably moved slower than I ever have," he said. "It was all you could do, really. When I got to the top, I was lying helplessly in the snow, unable to move."
Just as they began their 3,400-foot ski descent, clouds socked them in. They skied most of the upper slopes with almost zero visibility in dumping snow. "I can honestly say I don't think they got any action shots of us skiing," Hjorleifson laughed, adding conditions ranged from dust on crust to 10 centimeters of slushy powder near base camp.
Ironically, an acclimatization run Hjorleifson took with Hill and Jim Lamancusa the prior evening was the highlight of his limited skiing. "We got above the rainstorm after a couple hundred meters and got into the crisp, clear air with a view of all the peaks around us," Hjorleifson said. "That was more enjoyable than the summit run."
If anything, the expedition merely whet his appetite for future adventures in the range. "It was such an interesting, stimulating trip. Just the shock of the culture -- I haven't really been to any third world countries to ski, but that part is very powerful," Hjorleifson said. "I'd love to go back without the big peak objective and just try to ski the gems over there. I saw a lot of potential -- some really cool looking spines that are more my style of freeride skiing."