Nat Segal In Photos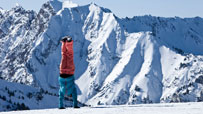 WIDTH="203" HEIGHT="114" BORDER="0" ALT="">
Meet Australia's top big-mountain female skier. Gallery

Australia is known for its endless white beaches, Great Barrier Reef and surfing, but not for its big-mountain skiing. So how did 24-year-old Australian Nat Segal come to be one of the top female contenders on the Freeride World Tour?
During this past winter in the Southern Hemisphere, Segal landed on the podium at four out of the five big mountain events held in New Zealand, including a win at the New Zealand World Heli Challenge in August. She also recently made the official invite list for the 2013 Freeride World Tour, as the only Australian -- male or female -- on the list.
Segal was raised on the hills of Australia's Mt. Buller, and while it doesn't offer any steeps, it does have a race and freestyle program. "Skiing had initially been my inspiration to graduate from university," Segal said. "After quitting moguls, I enrolled in a bachelor of arts program. It was fun, but by the end of my second year, I was bored, frustrated, and had no idea what I wanted to paint."
Her solution? Segal packed her bags and headed to France for her summer vacation, which was winter in the Northern Hemisphere. She found herself in Chamonix, France, exploring bigger terrain than she'd ever seen. She ski toured, hiked big mountains, and rock climbed. "Let's just say, I finished my third year of university, got my degree, and went straight to Utah," she says, "I spent the whole of my third year painting mountains." And she hasn't looked back.
If the name Segal sounds familiar it's because Nat's older sister is X Games slopestyle skier Anna Segal. But when asked about sibling rivalry, Nat said, "We do such different things there is no room for jealousy. But when we were competing in moguls together I was definitely jealous of her skill in the air. These days I'm just stoked -- I love watching her land new tricks and pushing herself."
After a summer of skiing in Australia, this season, Segal plans on heading to Jackson Hole, Wyo., to ski and train in between Freeride World Tour events. "I think training yourself physically and mentally off snow is just as important as skiing," she says. "Confidence in your physical strength means you can rip that much harder."