New teams and new venues are part of the 2012 calendar, and all of the top drivers are returning to fight for the championship as the Global Rallycross Championship takes off Saturday at Charlotte Motor Speedway in the first event of the season.
After the inaugural GRC season last year, organizers worked hard to step up the series for 2012. Key in that process was the relationship developed with Speedway Motorsports, Inc., owners of a number of racing venues across the United States that will play host to the GRC events. Each of the GRC events -- except X Games in Los Angeles -- is tied to existing NASCAR and IndyCar weekends, in an effort to bolster enthusiasm and fan base for the emerging sport.
So far, the work has paid off, with five dates and locations announced. The list of manufacturers taking part has also increased. Subaru, Ford and Hyundai have returned, with Dodge joining in the fun as well.
The two most common cars taking part in the GRC are Ford and Subaru.
Global RallyCross Gallery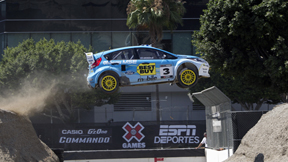 WIDTH="203" HEIGHT="114" BORDER="0" ALT="">
Look ahead to the 2012 season and look back at the inaugural GRC season. Gallery

Ford's roster is perhaps the deepest in the field, including four drivers who have earned medals at X Games in the past -- Tanner Foust, Brian Deegan, Marcus Grönholm and Ken Block. The lineup also includes David Binks and Toomas Hekkinen, both of whom have competed in rallycross events in Europe.
Grönholm enjoyed early success last season, as the two-time World Rally Champion walked away from the competition at the first event of 2011. Absent for the second round, the Finnish driver came back for the third and final event to a bit of a rude awakening, getting beaten by newcomer Brian Deegan on the first day. Gronholm returned on the second day and won the final round, well aware of how quickly the competition had advanced in just one short season.
"I am really pleased to be competing in the GRC with Best Buy Mobile and OMSE," said Grönholm, who claimed a silver and bronze medal at X Games 17 in the Best Buy Fiesta. "Although I won some races last year that is not good enough. I have always wanted to win every time I get in a car and I have some unfinished business in the GRC."
Foust has been driving in rallycross in Europe and North America for two years, and last year finished second in the European Rallycross Championship in the Rockstar Etines Ford Fiesta. When he's not racing, he's driving cars as the host of the car show "Top Gear USA." Perhaps his most astonishing U.S. performance of 2011 came in Snoqualmie, Wash., where Foust won the GRC event after suffering a dislocated shoulder in a crash the day before.
Ford will also be represented by X Games 17 RallyCross champion and motocross legend Brian Deegan, who hasn't had much trouble in the transition from two wheels to four. Ken Block has been busy fine-tuning his driving on the World Rally Championship, but is investing more time in the States this year, including a full GRC calendar. With skills that blend rally and gymkhana, Block's flat-out stlye should be well suited to rallycross.
The two new names on the Ford team include David Binks and Toomas Hekkinen. Binks has competed in rallycross for more than a decade, working his way up from his first event at 16 years old in an original Mini to his current days in a Ford Fiesta. Hekkinen, who is only 20, started his career in rallycross, driving his first event two years ago.
"I see the future of rallycross in the U.S. and I'm looking forward to being part of a great show … Now I'm ready to fight for the glory with superstars. I've followed X Games since I was a kid, so it is my dream come true to join in," said Hekkinen, rallycross champion in his native Finland.
Subaru has also returned to GRC this season, with an expanded program that includes three Subaru Impreza STIs, and a new partnership with Puma. Dave Mirra will return in hopes of bettering his performances from last season, where problems struck often. Alongside Mirra will be Bucky Lasek, who has won eight X Games medals on a skateboard. This will be his debut in rallycross.
Subaru's secret weapon will be Norwegian Sverre Isachsen, who has won the past three European Rallycross Championships. Known as the Viking Warrior, Isachsen will surprise those who haven't watched international competition.
Travis Pastrana has returned to rallycross after belatedly launching his NASCAR Nationwide career last month. Pastrana, who won the Rally America title four times, tried rallycross last year at X Games, competing even with a broken leg. Pastrana will be debuting the Dodge Dart, built specifically for rallycross.
"I've been patiently waiting to get behind the wheel of my Dodge Dart for months now! We started planning this project so long ago that I'm thrilled race day is almost here and I finally get to race the Dart," said Pastrana, who will also be racing in the Nationwide race Saturday at Charlotte. "I haven't been this excited about racing in a long time."
Rhys Millen has returned, along with Hyundai, and has a new teammate this year: Stephan Verdier, who was the most promising privateer entry last year, threatening to win at every event. Competing in Hyundai Velosters, Millen led the development of the cars through last season, where changes between each event helped the team find even more speed. For Verdier, the move to a factory-supported team gives him the extra advantage he needs.
"Being a part of Rhys Millen Racing, this partnership gives me the best chance at the championship. They are one of the top teams in GRC and I know we'll do great," said Verdier, who is sponsored by "Motorcity," a new animated program on Disney XD. "GRC is shaping up to be a fantastic season for 2012."
The series wouldn't be complete without a group of privateers ready to take on the big teams. Highlighted among the privateers is Irishman Liam Doran, who has been a rival to Foust in the ERC. Doran will compete in his Monster-backed Citroen, and should be among the best at any event.
The class structure has also been stripped back to leave only the SuperCar class. Each car is a lightweight, all-wheel drive machine equipped with well more than 500 horsepower and 500 foot-pounds of torque, purposely built for the head -to-head battles on dirt and tarmac that make up a rallycross track. Each car starts out life as its road going equivalent, before going through an exhaustive modification process to make it race ready.
Cars race door to door in a heat-race format on a short, twisty track that can be a mix of tarmac and dirt, and features a "joker lap" that every competitor must take once in each heat. The joker can be taken on any one of the four laps in each heat -- five laps in the A main final heat -- and the strategy of when to take the joker is left to each driver. But they need to be careful, the joker is meant to be slower, so drivers who wait to take it later in the race need to open up a substantial lead if they hope to win.
Everything starts this weekend, immediately following the NASCAR Nationwide event at the Charlotte Motor Speedway.