Overall points leader Tanner Foust picked a good time for his first win of the Global RallyCross season Saturday night as his victory earned him the $25,000 Discount Tire Cup at Las Vegas Motor Speedway.
Global RallyCross round 5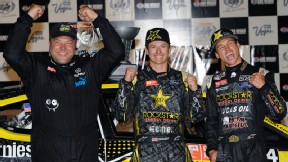 WIDTH="203" HEIGHT="114" BORDER="0" ALT="">
Check out some scenes from the GRC's weekend at Las Vegas Motor Speedway. Gallery

Going into Round 5, Foust and Brian Deegan were tied in points for the Discount Tire Cup, but Foust fought off Deegan on the first turn and held him off the rest of the way in the 10-car final. Deegan finished second in the race and in the cup standings that were based on points from races at Las Vegas Motor Speedway, Texas Motor Speedway and New Hampshire Motor Speedway.
Foust was almost as happy to collect on a $1 bet with Deegan as he was to receive the jumbo cardboard check from Discount Tire.
"[Winning] $25,000 is a lot of money, but
that one extra," Foust said as he held the dollar bill, "signed, I'm trying not to let it get too warm because I'm trying not to let the mount that I'll have get too humid. ... Brian's going to be eating this one for a little while."
Foust has been the most consistent driver in the four previous rounds in building a 12-point lead before Saturday, but his best results were two second-place finishes behind the now-injured Marcus Grönholm in the season's first two rounds at Charlotte Motor Speedway and Texas.
"It's a monkey off the back, it really is," Foust said after winning the final. "It's a tough race and after a the second or third lap I got over, I got the speed down on the jump and then it was just fun.
"And I have Marcus Grönholm in my ear during the race. I mean, who gets to say they have Marcus Grönholm as their spotter. And I don't have to tattoo Deegan's name on my backside, which is a good thing."
Grönholm missed his third consecutive round after sustaining serious head injuries during a practice run at X Games in June. The Finnish veteran driver and two-time World Rally Championship champion wasn't medically cleared to race Saturday but might ace in the season finale Oct. 30 at the Las Vegas Convention Center.
The night's races began with a scare in the first heat when Canadian driver Richard Burton crashed while trying to make the gap jump. After taking the hairpin turn, Burton's car turned slightly sideways as he hit the brakes while going up the ramp and slid off the edge before the right front of his car hit the safety barriers at the front of the jump landing. Emergency personnel removed Burton out of his vehicle, and he gave a thumbs up while he was taken by stretcher to an ambulance.
ESPN's Alyssa Roenigk reported that Burton's lead mechanic said the driver complained of back pain but he never lost consciousness. Precautionary X-rays were reported to be negative and Burton could be discharged from hospital overnight, Roenigk reported.
Travis Pastrana, who won the previous GRC round in New Hampshire, had "really a disappointing day." Just a couple hours after finishing 15th in his NASCAR Camping World Truck Series debut, Pastrana mistakenly took the joker lap twice during Heat 3 and was given a 30-second penalty. Drivers are allowed just one shortcut per race, so Pastrana dropped to fifth [the top two of each heat advance to the final race].
"I completely blew it," he said, before earning his way to the final by finishing in the top four of the last chance qualifier heat.
But in the final Pastrana was racing hard in third while chasing Foust and Deegan when mechanical troubles ended his race.
"I tried to turn it up a little bit and ended up blowing a turbo," Pastrana said.
Sverre Isachsen of Norway finished third for his first podium of the season and 19-year-old Toomas "Topi" Heikkinen finished an impressive fourth in his first racing since his frightening crash into the face of the landing jump during practice at X Games. He suffered multiple injuries, including a shattered ankle, and had his car's pedals altered specially to allow him to race more comfortably.
Samuel Hubinette entered Round 5 in second place overall, just 12 points behind Foust but the Swedish driver failed to make it past the last chance qualifying heat.
Foust was the fastest qualifier earlier Saturday with his fastest lap timed at 25.447 seconds, followed by Ken Block [25.640] and Pastrana [25.651].
Global RallyCross $25,000 Discount Tire Cup final standings