Tanner Foust won Round 6 of the Global RallyCross Championship on Tuesday night to clinch the season title on a wild night of bumping, drifting and racing in the season finale in Las Vegas.
Global RallyCross Round 6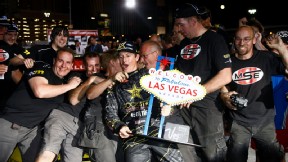 WIDTH="203" HEIGHT="114" BORDER="0" ALT="">
Browse through our gallery of photos from the final stop of the 2012 Global RallyCross Championship season in Las Vegas. Gallery

Foust dominated all night and held off Ford teammate Brian Deegan, who entered the final round just six points behind in the standings, in the final race and for his second consecutive GRC championship.
"I didn't know exactly where he was, but I knew there was some carnage in the back, for sure," said Foust, who finished the season with 94 points to Deegan's 84. "And he got through it, so it's a good thing that I got a good result, because if I didn't and
he took second place, then I would have lost the championship."
Foust practically had to win two final races because a first attempt at the final was red-flagged after six laps and restarted with drivers placed in the positions they held when it was stopped. Foust had just taken the lead and was pulling away when Ken Block's car started smoking in the engine area and officials halted the race in case of a fire.
"The best thing about it was it was a fair race," Foust said. "Brian had some bad luck in the heats, he got bumped back to the back row; that sort of went away when we had the red flag
and he got to race straight in front. And first and second --
frigging awesome, yeah."
Deegan should hit the casinos after the way he kept turning bad luck into good with second and third chances. His tire blew off a wheel in the first heat, sending him to the last-chance qualifier heat.
"I had an OK start; I came out with Ken pretty even. And we went into that first turn and I thought it was good. I was just tucking in with him and then I just got plowed from behind and it just turned into a big pileup, everyone just kept running into each other," Deegan said after the first heat. "It was kinda like amateur hour going through the first turn, so nothing I could really do about it, just got ran into, blew my tire off the wheel -- so that's racing. That's how it goes sometimes. You know, I guess I'll just have to return the favor someday."
He won that thanks in part to Sverre Isachsen's running into the back of Stephan Verdier, who had slammed into the side of the dirt ramp while passing through the gap. Deegan was running in eighth of the 10 cars when the first final was red-flagged, allowing him a better chance to catch Foust on the restart.
"I just basically had to go for it. I just shut off my brain and said, 'All right, it's just all or nothing at this point. You've got nothing to lose,'" Deegan said. "Went through the last chance, the hardest way, and started in the last row. Somehow I came through that first turn -- I don't know, I out-broke everyone and came around them.
Me and the orange car [Samuel Hubinette] got into it. And I took the joker lap [shortcut] a lap later. And it worked out perfect, almost passed Tanner on the joker coming out -- whoa that was a good joker lap, and I came out, it just felt good. I heated my tires, I came straight off last chance [an extra heat],
so my tires were dust.
"I did the best I could to hang in there. It is what it is. Second sucks, but Tanner's my teammate, we dominated and Ford won, too. What can you say -- there's always next year, right?"
Before his engine problem, Block had been having one of the best rounds of his 2012 GRC season. He had the best time Monday in the seeding heats, won the first heat Tuesday and jumped out to the lead off the start of the final. But soon after Foust passed him on the straightaway on lap six, Block's car started smoking and he exited it in frustration as his season came to an end.
"It's too bad, because Ken and I had the greatest race going," Foust said.
Rhys Millen finished third in the final, followed by Hubinette, Toomas Heikkinen, Dave Mirra, Bucky Lasek, Timur Timerzyanov and Bryce Menzies.
Millen's finish pushed his points total to 63 and into a tie with Hubinette for third place in the overall standings.
2012 Global RallyCross Championship final standings