Tampa Pro 2009 Gallery
onClick="window.open('http://espn.go.com/action/gallery?id=4007006','Popup','width=990,height=720,scrollbars=no,noresize'); return false;">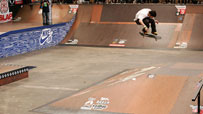 WIDTH="203" HEIGHT="114" BORDER="0" ALT="">
A look back at the action from the 2009 Tampa Pro. onClick="window.open('http://espn.go.com/action/gallery?id=4007006','Popup','width=990,height=720,scrollbars=no,noresize'); return false;">Gallery ».
Tampa. Mmm ... drink it in -- it always goes down smooth. Discovered by the Calusa Indians long before the buccaneers stepped foot, they named it Tampa, which, in Calusa means "strippers and alligators."
That's not correct. I don't actually know what it means. Scholars maintain the translation was lost centuries ago. [Ed.: It's actually Calusa for "Sticks of Fire."]
Some years later, in 1993, Brian Schaefer, a young skater from Brandon, Fla. with a strong desire to build a vert ramp, decided to open up a skatepark on the sketchy side of Tampa. One year later, with the park business still getting on its feet, Schaefer and the guys at The Skatepark of Tampa held their first pro contest showcasing street and vert skateboarding. Tampa Pro has been an annual event ever since.
In the last 16 years, the Tampa Pro has grown in myth and proportion. The boys in Central Florida started the Tampa Am the same year as the Pro and it too has become a destination contest for upcoming amateurs. With SPoTlight productions, they've orchestrated the Copenhagen Pro in Denmark for three years running as well.
Many of the pros that will skate the contest this week -- on March 13 and 14 -- haven't been skating as long as the contest has been running. Nonetheless, everyone has indelible memories of watching older generations of skaters compete in Tampa Pro comps of the past, like when Andrew Reynolds won the contest two years running (1997 and 1998) with flawless frontside flips or when Kyle Berard became the first and only skater (so far) to win both the Tampa Am (2000) and Tampa Pro (2001) contests with his all-terrain assault style.
Tampa, Fla. is by no means the center of the skateboarding universe. One could argue it's nearly as far as you can get from the skate industry stronghold of Southern California without leaving the continental United States. So what's made this one skatepark and this one contest, with no live television coverage and no massive prize purse [$20,000 for first isn't chump change but it's shy of the $50,000 for X Games gold or $100,000 for first at the Maloof Money Cup] the annual pilgrimage for so many pros from all parts of skateboarding's diverse landscape?
"It's a raw contest put on by skaters," says 24-year-old Nike SB pro and 5-time X Games medalist Paul Rodriguez. "It's 100 percent core. It's the real-est contest out there because of their roots in the skate world and the way they've always conducted the event."
SPoT's General Manager, Ryan Clements, who has worked at the park for 12 years, thinks it's all about the constants that never change and the elements that always improve. "We've been doing it so long that people think, 'Oh, it's just Tampa Pro ... it is what it is.' But man, we re-evaluate every year, pretty much non-stop," says Clements.
One recent re-evaluation that was hard to make was the elimination of the vert contest for 2010. "This will be the first year we won't have a vert contest which is interesting because vert is alive and well on TV," says Clements. "But we haven't had [athlete] support for Tampa Pro vert in a long time.
Among recent improvements was a major refurbishing that happened in 2006 when Nike SB came in as the title sponsor, forking over serious loot to help refurbish the street course. We spend between $20,000 and $40,000 on improvements to the course every year," says Clements. "Nike helps out a lot to fund those improvements."
For the folks at Nike, supporting this core contest with deep roots in skateboarding was a no-brainer. "Tampa is probably one of the best examples of grassroots skateboarding," says Nike SB's Director of Communications Kevin Imamura. "Through the lean years, through good years, the men of SPoT always hold it down and always put on an amazing event. Both the Am and the Pro have set precedents for what contests can be. And after all these years, it is still organized and owned by skaters that love skateboarding. When people ask me why we sponsor it, I'm always in shock because my initial reaction is, "Why wouldn't you want to sponsor it?"
While many contests, including the X Games and Maloof Money Cup have moved to a jam format where multiple skaters session together for a longer period of time, at Tampa Pro skaters still get individual 50-second runs in the qualifying round and one-minute runs in the finals. "I like the good old fashion 60-second run bit," says Rodriguez.
The individual run has two things going for it that a jam format can't compete with. First, it allows skaters with consistency -- the ones calm under pressure -- to shine. Second, it creates palpable drama. If a jam is going on, the audience has any number of skaters to keep their eye on. In the individual run, all eyes are on a single athlete and it becomes make or break time.
The SPoT crew had considered changing formats in 2009 but tradition won out, "We heard from a few team managers, saying 'What do you mean you're changing the format? My guys are expecting this!' So we changed it back," says Clements.
A key element that makes Tampa a destination year after year is the staff at the Skatepark of Tampa: real skaters who really support skateboarding. "It sounds so cheesy to say that we're for skaters by skaters ... but it's true," says Clements. "We all skate the course and we all think parts of it rule and parts of it suck, just like the pros. We go out of our way to make those personal phone calls to people asking them to come and please support the contest. Because what's the contest without the pros -- without the right pros?"
The array of talent that show up at Tampa sets the contest apart from other high-profile events. In Tampa you will see many of the same faces that make the rounds at the Dew Tour, X Games and Maloof Money Cup, but you'll also see skaters that won't attend any contest but the Tampa Pro each year. "If you skate the Dew Tour or the X Games, you know who you're going to be up against and what you can expect," says Rodriguez. "You get locked into a little bubble sometimes, thinking this is the level of talent that's out there. Then you go to Tampa and that bubble gets burst ... You're introduced to a new level and variety of talent."
For Rodriguez, who won first place and $100,000 at the Maloof Money Cup in 2008, the variety of skaters at Tampa Pro has been a challenge. "I've never been able to win at Tampa. To me, the competition is a lot harder."
Rodriguez made the finals at Tampa Pro in 2002, 2007, and in 2009 when he earned second place. A win at Tampa is definitely a career goal of his and motivation to keep going back. "It's one of the only contests left that's pure core, so I gotta represent over there."
To take the win this year, Rodriguez will be up against stiff competition. Greg Lutzka, who won the event in 2006 and then back-to-back in 2008 and 2009, will be returning. Luan Oliveira will make his pro contest debut at Tampa Pro after winning back-to-back Tampa Am titles in 2008 and 2009. Zered Bassett, Pete Eldridge and even Chet Childress are scheduled to compete this year.
The contest weekend is an event in itself," says Imamura. "You know it will be a good time. But most importantly, you know you are guaranteed to see amazing skateboarding."

Tune in to ESPN.com's 16th annual Tampa Pro coverage, beginning March 12, from Tampa, Fla.