Tampa Pro 2010 Gallery
onClick="window.open('http://www.espn.com/action/skateboarding/gallery?id=4994448','Popup','width=990,height=720,scrollbars=no,noresize'); return false;">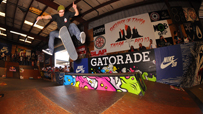 WIDTH="203" HEIGHT="114" BORDER="0" ALT="">
A look at all the action from the 2010 Tampa Pro. onClick="window.open('http://www.espn.com/action/skateboarding/gallery?id=4994448','Popup','width=990,height=720,scrollbars=no,noresize'); return false;">Gallery »
The 16th annual Tampa Pro has ended but not without some upsets and surprises. After several trips to the podium in Tampa contests of years past without coming away with a win, Paul Rodriguez bested some serious competition this year to emerge the overall victor. Rodriguez will leave Tampa with another trophy to add to his mounting collection (one from the Maloof Money Cup in 2008, as well as five medals from X Games) and $20,000 to add to his bank account.
P-Rod narrowly beat out 15-year-old Nyjah Huston, who had a flawless run in the finals. In fact, the two skaters' best runs tied for the exact same score and judges had to factor in the points from their second-best runs to break the tie (a first in Tampa contest history). It's notable that Nyjah also skated amazingly all weekend and took home $15,000 for his efforts.
Rounding out the top three, Keegan Sauder surprised even himself when he hung on to a flawless, speedy and powerful run in the finals. Sauder was visibly stoked about his good fortune, telling me, "Dude, I just won 10 grand!"
Despite high expectations, a number of favorites going into Tampa fell short of the mark. New pro and Tampa Am two-peater Luan Oliveira was roundly expected to win or, at the least, make the top three. Although Oliveira's run was among the most technical and consistent in practice, he couldn't quite put it together in the finals. Still, Oliveira took seventh place and $2,000 for his effort -- not bad at all for his first pro contest.
It also seemed like it was going to be Torey Pudwill's contest for the taking for much of the weekend. Newly named to the elite Plan B squad -- joining pros like Danny Way, P-Rod and Ryan Sheckler -- Pudwill had fans wearing T-shirts with his face on them, following him everywhere he went. Pudwill qualified in first place on Saturday with a run that included backside lipslides up and across the hubba ledge, wallies off the pyramid ledge to clear the pyramid and feeble to Smith grinds across and down the low rail. But with a golden ticket straight to the finals, Pudwill couldn't quite make the same magic happen Sunday. He ended up in sixth place and won $3,000 for his effort. But Pudwill made another big push during the Best Trick contest Sunday, pulling a backside lipslide to backside tailslide to backside flip out. That trick earned him second in Best Trick and an additional $2,000.
Sheckler was there, too, skating in his first contest since injuring his foot at X Games 15 last summer. Sheckler, still nursing an injury (wincing and limping after bailing tricks), made the finals and nabbed fifth place and $4,000. As he accepted his prize, Sheckler took the mike and thanked the crowd and organizers in Tampa for being the most real contest in skating.
Three-time Tampa Pro champion Greg Lutzka landed many of the same tricks that brought him victory in the past, but he couldn't quite put them all together this year. Undaunted, Lutzka thanked the crowd in Tampa and was all smiles. He was also skating a Muska Element board for the comp, and his name is no longer on the Almost skateboards roster.
Winning the Best Trick was Expedition's Matt Miller. In his first pro contest (he doesn't even have a board out yet), Miller showed that his massive pop is not something he saves just for video parts. Miller's backside nosebluntslide the wrong way on the Red Bull ledge was at least waist-high and executed while about 40 skaters were trying to pull tricks chaotically all around him.
All told, this weekend was another excellent event in Tampa with some of the best skateboarders in the world putting on an amazing show. Can't wait for next year.
The final results:
1. Paul Rodriguez $20,000
2. Nyjah Huston $15,000
3. Keegan Sauder $10,000
4. Peter Ramondetta $5,000
5. Ryan Sheckler $4,000
6. Torey Pudwill $3,000
7. Luan Oliveira $2,000
8. Danny Fuenzalida $1,750
9. Greg Lutzka $1,500
10. Chaz Ortiz $1,250
11. Dennis Busenitz $1,000
12. John Rattray $1,000