Maloof Money Cup NYC in Pictures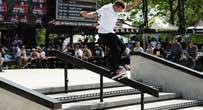 WIDTH="203" HEIGHT="114" BORDER="0" ALT="">
Check out photos of Greg Lutzka's win and more. Gallery

Day one of Maloof Money Cup New York is a wrap and rookie pro Colin Provost is leading the pack into the finals. Provost, who does not have a pro board yet with sponsor Toy Machine, skated the park like a veteran. In each section he came out swinging. When I asked Provost if he felt like he had to step up his skating to compete at this level he responded modestly, "No, I'm not trying to keep up with these dudes, they're too good! I think it's crazy that I'm in first, but I'm down."
Provost ripped each section of the course, linking trick after trick and even surprised himself when he landed a 180 switch crooked grind down the park's biggest rail.
Back in the contest was the only man to have dropped out of Street League thus far, Greg Lutzka. Here at Maloof, Lutzka looked right at home. Lutzka had a very impressive showing in the second section of the course where he did a frontside 270 noseblunt down the six-stair rail and continued his assault with a flawless frontside flip to switch 5-0 down the hubba ledge. With 255.00 points for the day Lutzka was less than a point away from Ryan Decenzo, who qualified in second. Decenzo was on fire as usual, and watching he and Lutzka skate the big section together was a treat. Lutzka did a 270 lipslide and Decenzo followed right behind with a switch 270 lipslide.
At the end of the heat, Luzka and Decenzo, Darkstar skateboards teammates, celebrated together with a hug.
Lutka isn't the only pro to decide to come back to Maloof. It has been a few years since any contest has held his interest, but Andrew Reynolds is here at the Flushing Meadows Park in Queens, N.Y., and he did today what he does best: land tons of tricks. With all the other contests and large prize purses up for grabs right now. Reynolds said that he came to Maloof because "I had fun at the first one I went to and a lot of the Baker and Emerica guys were coming to this. It's just a great contest."
I asked Reynolds what his thoughts were about tomorrow's new finals format and he said he didn't even know the format changed and that he was just going to try to land tricks. Ammo skateboards' Manny Santiago on the other hand, is ready for tomorrow's head to head finals. We chatted about the new format and he said, "I think it's awesome because the top 12 are very competitive people, so it's going to make you try harder. It's you against him, blood for blood!"
Tomorrow we'll watch the top 12 battle it out for $160,000. There will be six heats of two skaters each. Each will be given three minutes and, for the first time here at Maloof, they will be allowed to skate the entire park in their heats. The top placements from today's semifinals don't have to skate in the first round of elimination.
And yes, it should be interesting. Full results for semifinals and qualifiers follow.
Results: Maloof Money Cup NYC 2011 PRO Street Semifinals (Top 12 advance to Finals)
Results: Maloof Money Cup NYC 2011 PRO Street Qualifiers