Atiba Jefferson Gallery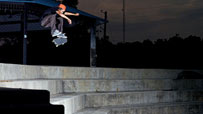 WIDTH="203" HEIGHT="114" BORDER="0" ALT="">
A look at some of Atiba Jefferson's classic skate shots and basketball portraits. Gallery


Atiba Jefferson is widely regarded as one of the best skateboarding photographers in the business but what a lot of people don't know is that his keen eye for capturing split-second action and his beautiful portrait work has been utilized by the professional basketball community for years. Atiba spent three years assisting the Lakers and Clippers team photographer, he is also a longtime contributor to the basketball bible, SLAM Magazine, and occasionally shoots directly for the NBA.
In all my years working in skateboarding I've never come across anyone who can match my passion and love for the game of basketball, other than Atiba. I don't think in the 10 years I've known him I've ever even had a conversation about skating; its strictly b-ball talk when we see each other. As the days wind down to the February 24, 2011 trade deadline (where teams get their last chance to switch up their roster for a playoff run), I thought it only fitting to call Atiba and see what his predictions were for these final days of talent swapping.
What are your predictions for Thursday's trade deadline?
It's funny because there's been so much talk; it's crazy. You're seeing everyone see the deadline creep up and fully panic. The biggest one is obviously Carmelo Anthony. I actually golfed with a good Denver Nuggets insider yesterday and I heard Minnesota will be involved as a third team with a draft pick or something. I see Chauncey Billups and Carmelo going to the Knicks. I don't see him going to The Nets unless Denver fully kiboshes it. It makes sense for him and Chauncey to go, Denver to receive a draft pick and Raymond Felton. The Nuggets still have J.R. Smith and Ty Lawson; technically they'll be ok. Carmelo is out either way, now or the end of the year, so you might as well get something for him -- unless management is so mad and over the dude that they don't even want to. The interesting thing, where Carmelo is gambling, is with the potential lock out. If you're Carmelo, do you lock into something now or risk what the negotiations for the lock out are going to be?
src="http://a.espncdn.com/i/story/design07/dropQuote.gif" />
Kobe also seems to be really down for skating.
src="http://a.espncdn.com/i/story/design07/dropQuoteEnd.gif" />
--Atiba Jefferson
As a Nuggets fan and Denver native, how does this season-long mess make you feel?
And my dog is named Carmelo! Terrible. Are you kidding me? It sucks. I have watched the Nuggets through such brutal seasons and ups and downs. It's tough because you see a lot of hope and promise, even in this season. I don't blame Carmelo. I'm not mad at him. I get it; you have to do what you have to do. The way New York is playing and to add those two dudes they could be a pretty insane team. Whereas if you look at New Jersey and their record, Carmelo would be lucky to make the playoffs there.
Do you think a trade to NY would get the Knicks any further than second round of the playoffs?
You never know. That's the best thing about basketball. Didn't we all think last season the Cavs were going to be there? The thing is they need more defense in New York. To me, Boston is going to go all the way because Boston plays great defense.
Will Boston win everything this year?
Oh man. Obviously, I'm going to say the Lakers. I live here and love the Lakers. I'd love to say the Nuggets but I don't see them doing it. But if I had to bet everything, all my chips, I'm going San Antonio. I love Tim Duncan so I have no problem cheering and rooting for that dude. I think he is the funniest dude in basketball that no one knows about; his sense of humor is hilarious. I'm a basketball fan that will really hate a team unless it's my team and I hate the Spurs. But if I was a gambler in Vegas, the Spurs are on fire! The Lakers have a lot of commotion right now. Is Artest even going to be around LA for long? I'm hearing trade rumors about that.
Amare Stoudemire used to skate. Have you ever had conversations with him about it?
No. I didn't know that when I shot him. The funniest story is, during the 2005 All-Star game in Denver, I'm leaving the Denver skatepark and we see this big 6'9" dude pushing so sketchy on skateboard. Then we realize it's Rodney White of the Denver Nuggets and we run up to him and get a photo. We asked him if he skated a lot and he's like, "Yeah, I live right here next to the arena. I just cruise around on a board for transportation." And it wasn't a longboard; it was a Consolidated board! It was insane that it was regular season and he's just cruising the streets with no worries if he got broke off. Kobe also seems to be really down for skating. I remember telling him the second Maloof Money Cup was being held right by his house and next thing I hear he's there watching the skating. I heard Steve Nash is a big fan of skating, too.
For more of Atiba's photography, with an intro by our own Chris Nieratko, download Atiba's FREE éS iPAd App here.