Chris Cole has done it again. Just two months after grabbing first place and $100,000 at the Maloof Money Cup in New York City, Cole won first place and another $100,000 at the Maloof Money Cup in Orange County. Add that to his win at the 2009 Maloof Money Cup Orange County and Cole has taken $300,000 and three first place prizes from the Maloof brothers in just over a year's time!

Since Paul Rodriguez and Ryan Sheckler were not competing in this contest due to their consigned obligations to Street League, Cole was the favorite to win the big money all weekend long. That doesn't mean that there weren't serious contenders gunning for the top prize and giving Cole a run for his money. The finals were stacked with heavy hitters including Torey Pudwill, Sean Malto, Nyjah Huston, Ryan Decenzo, David Gonzalez and Bastien Salabanzi, all of whom had a shot winning. But let's be honest, the general feeling among the crowd here in Orange County was that it was Cole's contest to win or lose.
Maloof Money Cup OC Gallery
onClick="window.open('http://www.espn.com/action/skateboarding/gallery?id=5445281','Popup','width=990,height=720,scrollbars=no,noresize'); return false;">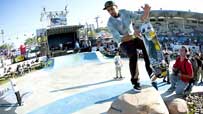 WIDTH="203" HEIGHT="114" BORDER="0" ALT="">
It's been a long four days of shredding at Maloof. Here's the photographic evidence. onClick="window.open('http://www.espn.com/action/skateboarding/gallery?id=5445281','Popup','width=990,height=720,scrollbars=no,noresize'); return false;"> Gallery

The only name that came up repeatedly as a real threat to Cole was Pudwill. With unreal consistency on tricks as technical as laser flips (frontside 360 heelflips) and massive pop, Pudwill seemingly had the best shot at dethroning Cole. Which is why it came as a surprise to many that, following two heats in the finals that didn't quite come together for him, Pudwill was edged out of the top three and a spot on the podium. Instead, young Nyjah Huston grabbed second place largely based on his performance on his final heat skating the biggest section of the course. Huston stuck backside 360 lipslides and bigspin frontside boardslides down the 9-stair rail. He also switch heelfliped the triple set and nollie heelflip noseslid the hubba ledge.
Coming in third place, Sean Malto went to work on the course's final section (where, with the biggest obstacles, the most points were up for grabs). Malto nollie backside nosegrinded the hubba ledge, overcrooked the 9-stair rail and then hardflipped and switch flipped the triple set.
Still, no one's performance stood up to Cole's in the end. Proving again and again that when he's on, virtually no one can touch him, Cole approached the finals with pure determination. In the early sections he rattled off trick after trick accumulating points. On the course's low to high ledge, Cole took the harder approach and chose to backside nosebluntslide the high ledge from flat ground. On the 6-stair hubba, he halfcabbed into frontside 50-50s the hard way and switch tailslid the thing. And in the final section, where sizable stairs and railings meant that every fall could result in serious injury, Cole proved he was made to skate this sort of thing. When he did fall (and that wasn't often), Cole could roll out of harms way in ways that his peers couldn't; it might just be because he's literally quite larger and more muscular than most of his pro colleagues. With each make and each miss, Cole was instantly running back up the stairs to get in more attempts than anyone else. He switch frontside flipped the triple set and nosegrinded the hubba ledge across and down. Cole pulled an admittedly sketch backside 360 flip down the triple set before Torey Pudwill could put one down (both are good at that trick) and threw down the hardest trick of the contest on the nine stair rail with a frontside 180 the hard way into a switch feeble grind revert that got maybe the biggest applause of the contest.
There were some in the crowd who questioned the judging when the results were announced. Some felt that Nyjah Huston had been robbed of the win (with bronze at X Games 16 and 2nd in both Tampa Pro and Maloof Money Cup Orange County this year, he does seem to be getting the always a bridesmaid and never the bride reputation), but from where I was sitting the judges made the right call with Cole. Nyjah also had one heckuva contest, impressed everyone and, at just 15, he's bound to have plenty of days in the sun in the future. But today was, once again, Chris Cole's day.
Results
1. Chris Cole 286.33 points $100,000
2. Nyjah Huston 281.67 points $40,000
3. Sean Malto 281.33 points $25,000
4. Torey Pudwill 274.67 points $15,000
5. Tommy Sandoval 260.67 points $6,000
6. Bastien Salabanzi 258.67 points $5,000
7. Ryan Decenzo 255.33 points $4,000
8. Justin Brock 250.33 points $3,000
9. David Gonzalez 246.67 points $2,500
10. Billy Marks 239.67 points $2,000
11. Jake Duncombe 237.33 points $1,500
12. Garrett Hill 233.67 points $1,500