16-year-old Nyjah Huston dropped jaws with his big win Seattle at last weekend's first stop of the 2011 Street League season. The 2010 overall champion for Street League, Huston seems to be thriving in Rob Dyrdek's trick-based format. Unleashing a never-been-done-in-a-contest move, the backside 270 nosebluntslide down a handrail, Huston set the bar for this year's competitions higher than ever. Fresh off his win and on a layover between flights, on his way to Spain for a skate filming trip, Huston gave us a few minutes of his time to talk about the league, his big win and the future of competitive skateboarding.
So two years in a row, two huge wins at Street League. You've got to be feeling good.
For sure. I've been waiting now for a few months and felt the pressure, not from other people just on myself, just wanting to win this first contest so badly. So it's such a big relief to have been able to accomplish that.
Street League Seattle Gallery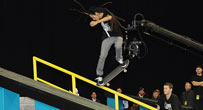 WIDTH="203" HEIGHT="114" BORDER="0" ALT="">
Take a look at all the action from the first stop of Street League 2011. Gallery


Is this contest series something that you've been training for?
I wouldn't say that I've been training. Obviously I've been going to the skatepark a few times a week and doing my stuff. But I haven't been "training," like on a program trying to win. I feel like everything's been going a little more easy for me. I've just been doing my thing, trying to learn some new tricks and just be prepared. My skatepark that I go to, Epic skatepark, is 40 minutes away from me, up by Sacramento, so I only go there two or three times a week. It's a really good set up so I'm thankful for that. that's where I learned that backside 270 noseblunt and I've just been waiting to bring that out so it's tight.
Was the backside 270 nosebluntslide something you've done before or have you been saving it for Street League?
No, I've never filmed it before. If I had gone to a street spot before Street League and found the right rail to do it on, I would have done it there. But I was pretty much waiting for Street League because I knew there were going to be some good rails on the course to do that trick on. That rail ended up being so perfect; it was amazing.
I know that trick has been done before by a small handful of skaters. Where had you seen it first?
I've honestly only really seen Chris Cole do a really legit one on a rail [in Zero's 2005 video, "New Blood"]. I noticed that he never really kept doing it after that. So I noticed like, 'Damn, that's an open trick that no one really has.' So I was psyched to try to bring that one out.
You seem to really have the hang of the Street League format. Were any of the minor changes in format or scoring good or bad for you in the first event of the season?
It honestly did help me. And ever since I've known how the rules were going to be changing a bit, I've known that it was going to be a little easier for me. Mainly because last year in the tech section of the courses, I would lose all those points and then I'd have to build them back up after that. But now there's more of a choice in what you have to skate so that even if Shane [O'Neill] is doing all this crazy stuff on the ledges, I can still be skating the bump to rail and all this other stuff, so it works out perfect.
The show made a big deal out of your mother being there to watch you on Mother's Day. Was that a planned out thing?
No, it wasn't planned at all. She was just there to support me. I think she likes being at the Street League contests just because they're so organized and the whole vibe there is so professional. It feels right for a parent to be there rather than a parent coming to support at Tampa Pro or something like that.
Are you going to share any of that prize money with your mom?
Yeah, I'd love to help her out. Hell yeah!
You're 16 and you tweeted that you just passed your driving test. Are you looking to spend any of your Street League winnings on a ride for yourself?
Yeah, I did pas my test just over a week ago. I'm going to get a car for sure. I know what I'm gonna get, too but I think I'm gonna leave that a surprise.
With two more contests in the regular Street League season and the championship ahead of you, do you have strategy for approaching the rest of the season?
I don't think I have to prepare that much of a strategy now. If I wouldn't have done so well in this last contest, then I might have been thinking of strategy like, 'Okay, what do I have to do to change my stuff now,' you know? But since this one went really smooth, from what I can see the format really helped in my favor. So I'm thinking that the next one should go pretty good, too.
During the contest, you only fell a very few times.
I fell one time on my first trick of the actual final, which was crazy. I think I was just really nervous. I was just trying a nollie crook on that little bump to rail and I had that every try in practice. So that was a trip. But everybody gets nervous some times. I actually think it kind of helped me because after that it made me concentrate so much more and I felt like I had to really land my stuff. But after that I didn't fall for so long. Pretty much I didn't fall until I'd already handled the win and then I was just going for that best trick award.
As far as the Street League goes, what's a better strategy: going for the simpler tricks you know you can land or going for some things that might be a stretch but have the potential to earn you way more points?
I honestly think doing a mix of both is really the only choice. Because what [Sean] Malto did last year, it was so tight, he landed everything but this year if you do the same trick twice you get less points for it. I don't think there's even a choice; you have to go for stuff and have a big variety of tricks to be able to win.
Of your peers in Street League, who do you consider to be your heaviest competition out there this year?
Shane O'Neill, for sure.
Is it a friendly rivalry?
Yeah, it definitely is. We're really cool to each other out there on the course. I think we both know that we're really close and we are the two to beat. Shane's so cool when we're out there skating. He never takes anything too seriously. But his skill level is just crazy. I don't even understand the way he skates; it's crazy.
The back 270 nosebluntsldie was a big surprise for the crowd in Seattle. Do you have more surprises in store for us?
There are a couple more tricks I've been working on that I haven't pulled out yet in the finals. But that trick was the main one that I'd been waiting to do, that I knew would get a score close to what it got. It was just tight that I was able to land it at that perfect time. It worked out so good.
Beyond the league, what else have you got going right now? Do you have a video part you're working on?
Hell yeah, I'm definitely working on that. You should be seeing something from me soon. I'm always street skating because it's so fun to challenge yourself, trying tricks on things that weren't made for skating. Definitely working on a video part. I'm on my way to Spain right now on an Element trip to get some photos for some articles, get some more footage. I've got a few more trips coming up after that.